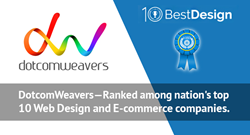 "I am proud of my team and organization for all the hard work involved in achieving this recognition and ranking," Amit Bhaiya, Co-founder DotcomWeavers.
Paramus, New Jersey (PRWEB) April 07, 2014
New Jersey based DotcomWeavers, the leader in first to market web solutions, continues to be recognized as one of the best in web design and development by their peers.
Closing out 2013 as TopSeo's top five web development firms, DotcomWeavers continues to provide creative web solutions and achieves top 10 in three different categories on 10 Best Designs for Best Web Design Firm #6, Best E-commerce Firm #4, and Best Custom Web Design Firm #8.
10 Best Designs' ranks the best design firms from around the world using qualitative and quantitative ranking points. Their panel of industry experts award points based on client research, online research, reviews, accolades, traffic and other ranking sources. They have years of extensive knowledge and experience in PHp, JS, CSS, HTML, Branding and search engine optimization.
"10 Best Designs is a nationally recognized online source for reviews and rankings of web design firms, I am proud of my team and organization for all the hard work involved in achieving this recognition and rankings," said Amit Bhaiya, President and Co-Founder, DotcomWeavers.
DotcomWeavers believes that a professionally designed website should have three core design and functional elements; it should be captivating, easy to use and responsive. Along with the design and functional elements of a website, they ensure that each client s' project receives the focus and attention unique to their business goals and objectives. The entire design process is laid out and effectively communicated so the client can mentally invest in the project. This level of client engagement improves the overall work flow.
DotcomWeavers always focuses on client satisfaction. This is just one of the reasons they have been given a grade 92.74% by 10 Best Designs, thus making them one of the best web design and development firms in the country.
About DotcomWeavers:
DotcomWeavers is one of the most successful creative web design and development studios located in New Jersey and New York. With a team of more than 45 talented designers, copywriters, developers and creative marketing strategists, the agency aims at bringing forward digital solutions that play a vital role in making online businesses successful.
For more information regarding the agency's services, please visit http://www.dotcomweavers.com/.
About 10 Best Design:
10 Best Design is an independent body established outside of San Francisco, CA. It has a team made up of different individuals working in various sectors all across the USA. The Best Web Design Firms list consists of ten most successful agencies that have designed responsive and stellar website designs. There are a large number of quantitative as well as quantitative grading points which are then averaged to form a combined grade based on which agencies are ranked. For more information about 10 Best Design, please visit http://www.10bestdesign.com/about/