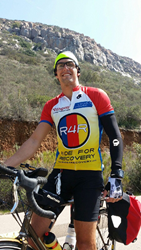 Living a successful life free from addiction is possible.
Statesboro, GA (PRWEB) April 05, 2014
Willingway and Willingway Foundation sponsor and support Steve Pulley's "Ride 4 Recovery." The bike ride, which originated in San Diego, California on March 23, 2014, is a part of a milestone for Pulley, as he is also celebrating six years of sobriety. The mission of this nationwide bike ride is to raise awareness about addiction recovery and provide encouragement for individuals who are currently battling with the disease to seek help.
After gaining sobriety at Louie's Recovery Halfway House in Statesboro, Georgia, Pulley found support and help for his addiction at Georgia Southern University's Center for Addiction Recovery. The center is considered a Collegiate Recovery Community (CRC). The support received at the center was helpful and resulted in Pulley graduating cum laude last December.
"Living a successful life free from addiction is possible," says Pulley, which Willingway and Willingway Foundation agree with.
Pulley's next stop will be Las Cruces, New Mexico where he will be speaking at New Mexico State University's Spring Wellness Fair. This will take place on Saturday, April 5, 2014 from 10 a.m. to 3 p.m. at Preciado Park on campus.
From there he will be heading to Texas, Louisiana, Florida, Georgia and ending in Charleston, South Carolina. He will be speaking at each of these locations to share his story of recovery and hope.
More information about the "Ride 4 Recovery" can be found at Pulley's website, http://www.ride4recovery.org/.
About Willingway
Willingway focuses on saving the lives of people with alcohol and drug addictions. With 45 years of experience and a nationally-recognized alcohol and drug addiction treatment program, Willingway delivers patients and families the highest quality of treatment. The program empowers patients to enjoy a life of sobriety and success. Find out more about Willingway programs here.