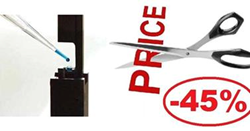 Do you have a cheaper Micro Focus Cell?
Farmingdale, NY (PRWEB) April 06, 2014
NSG Precision Cells has been the world leader in spectrophotometer cuvettes and NIST calibration standards for over five decades. During these years, NSG has released many products that changed the spectroscopy world.
One of NSG's latest products, the Micro Focus Cell (MFC), has made complex experiments that use to be impossible were once impossible an easy task very easy to perform. The MFC was released in 2011 and, though customers loved what it had to offer, took issue with the high price one of the biggest complaints about the product was the price. Starting with a retail price of $3,999, this put the MFC out of some laboratories' budgets. NSG has heard their customer's feedback and now all laboratories can afford to buy a Micro Focus Cell for their DNA quantification experiments.
Researchers were amazed when they saw NSG's MFC in action. The MFC will take any standard 10 mm spectrophotometer holder and transform it into a DNA/RNA drop-based machine. Scientists used to have to rely on micro cuvettes that offered a volume of 0.7mL, which is a huge and expensive DNA sample.
With the benefits of 1.9 uL volume and the best reproducibility on the market, the choice on which drop based cuvette is best is easy. In addition, the MFC does not suffer from any alignment issues that cause inaccurate results with other micro cuvettes. However, that common question of "Do you have a cheaper Micro Focus Cell?" always came up.
In 2014, due to the high demand of the Micro Focus Cell, NSG improved their technology for this part. NSG uses the same high-grade materials, which includes Japanese optics, Fresnel lenses, and anodized aluminum for the construction of the MFC. The only change is due to bulk manufacturing. Now, NSG has the advantage of offering lower pricing to their customers.
NSG has cut the original price tag of $3,999, to a mere $2,200. That is over a 40% drop in price, which scientists never see from any other cuvette manufacturer. NSG has plans on keeping this very low price for many years. In fact, NSG has plans of further reducing the price of the Micro Focus Cell to make sure that even the most basic lab will be able to afford one.
The engineers at NSG Precision Cells only have one thing in mind whenever they work on a new project and that is their customers. "What is the point if we make a great product that no one can afford," quotes Paul Woitovich an engineer at NSG. NSG firmly believes in delivering useful products that are reliable and affordable.
The Micro Focus Cell is the only drop-based cuvette that has undergone testing by NRC-Canada. Scientists who are interested in reading the full NRC-Canada report can visit http://www.microfocuscell.com to download the available data sheet.