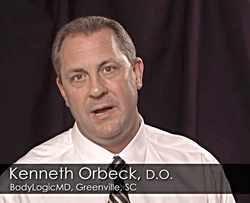 (PRWEB) April 09, 2014
Dr. Kenneth Orbeck of Greenville is a South Carolina-based medical practitioner that specializes in the administration of regenerative medicine's most innovative and state-of-the-art healing techniques. Serving as the supreme example of successful healing medicine in the Palmetto State, this Greenville platelet-rich plasma doctor has become a go-to destination for South Carolina pain patients who have long suffered from an abundance of debilitating medical indicators.
At Dr. Kenneth Orbeck of Greenville, a patient's symptoms – those of which typically correspond with sustained injuries – are treated with a very distinct kind of approach that directly targets the individual at-hand. As a licensed medical practitioner, Dr. Orbeck's individualized healthcare approach has been helping patients achieve a flawless health sheet with maintained wellness at all ages. In fact, this South Carolina PRP doctor has single-handedly provided patients with the foundation of youth, allowing patients to feel the juvenescence of one's youthful years.
While utilizing the traditional techniques of functional medicine to optimize a patient's bodily functions, Dr. Orbeck still manages to take dives into unparalleled medical depths that regenerative practices have never seen before.
Dr. Kenneth Orbeck of Greenville has also recently reached new heights in the area of PRP for hair restoration. When it comes to wound and tissue healing and even hair thinning, PRP is an all-natural medical procedure that is performed by a physician such as Dr. Orbeck. Through the utilization of state-of-the-art technology and modern science, this South Carolina PRP doctor provides patients with a sense of optimized wellness and new understanding.
As one of South Carolina's premier preventive, regenerative and anti-aging medical clinics, Dr. Kenneth Orbeck of Greenville manages to spend a substantial amount of time with patients in order to properly address all health and wellness concerns. A consultation at this Greenville, South Carolina regenerative medicine center allows a patient to comprehend true aspects of health in a preemptive perspective.