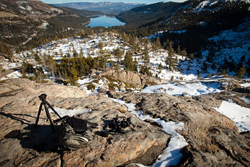 After testing these cameras aggressively through field observations, we picked the five areas we believe are the most important to evaluate: image quality, low light performance, ease of use, video quality, and flash performance.
Cheyenne, Wyoming (PRWEB) April 04, 2014
OutdoorGearLab, possibly the finest outdoor gear review website known especially for their side-by-side detailed comparisons, recently set live an informative review featuring nine Top Point And Shoot Digital Cameras. Each contender was tested for image quality, low light performance, ease of use, video quality and flash performance while adventuring and relaxing mainly in the Sierra Backcountry and the San Francisco Bay Area. Once the results were in, Editors' Choice, Top Pick and Best Buy awards were granted accordingly.
The award winners include:
The Sony RX100 winner of the Editors' Choice award for 2014. According to Gear Editor Tommy Penick, "Sony really outdid themselves with this one. It had great overall image quality and was extremely easy to use. It was hard not to be impressed by its Carl Zeiss lens and fancy backlit sensor. Its compact portablilty and impressive quality images made it a expedition and adventure go-to favorite."
The Top Pick award is given to a product that excels in certain areas. In this category we have two 2014 Top Pick award winners; the Fuji X100s and the Panasonic Lumix FZ200.
The Fuji X100s is stated by Penick as being, "Sexy. Right out of the package it reminded me of simpler times and old darkroom scents so much that I had to remember that it was a strong competetor in this very modern product challenge. It didn't take long to become a favorite with its well thought out design, ease of accessing control basics, speed shooting at six frames a second and most likely the largest sensor in the review."
Penick addressed the Panasonic Lumix FZ200 as having, "The highest quality "superzoom" lens and video features that were impressive. It stood out above the rest as sutiable for sports photography with its impressive slow motion video quality and burst mode for stills."
Best Buy award for 2014 goes to the Canon G16. This award goes to a product that balances both a high score on our ratings with a reasonable price. Penick explains,"The 16th version of the G-Series, the G16 maintains its simplicity while still sporting cool features. Though it's not the smallest we tested, we appreciated its portability."
This review also includes a side-by-side photo comparison page where any combination of cameras reviewed can be compared and also a Digital Camera Buying Advice article.
Dedicated to creating world's best outdoor gear reviews; OutdoorGearLab LLC is headquartered in Cheyenne, Wyoming. The company's website is a free resource for people who love the outdoors and participating in activities such as hiking, climbing, backpacking, and camping. Expert reviewers perform side-by-side testing of outdoor gear in the field and the company publishes the results in comparative reviews. Competing products are tested and given a score derived from how they ranked in several categories then awards are provided to the top performing products.