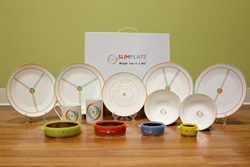 ...One doesn't need a diet, they need a lifestyle change...
Rock Hill, SC (PRWEB) April 08, 2014
"There are many advertised ways to lose weight, some require special pills or foods. One doesn't need a diet, they need a lifestyle change," says Dr. Grewal, creator of the SlimPlate System, weight loss using real food. "We as physicians need to show society how to lose weight effectively."
Dr. Grewal and Dr. Nwe give their advice on how to save money on healthy foods:
1. Choose a diet that lets you eat real food - Spending extra cash on certain foods can hurt ones wallet, also special trips to different stores shouldn't be necessary. One should be able to eat real food and form better eating habits while eating the same food as their family.
2. Choose a diet which sustains the weight loss - Choose a method that allows you to lose the weight so you don't have to diet again and again. Yo-yo dieting can be a danger to someone's health and costs money. That is why the doctors designed SlimPlate System for weight loss using real food and made it a one-time purchase so there is no recurring cost involved.
3. Choose a safe diet plan - Extreme diet plans like very low calorie diets can cause health problems and you may end up spending more for your health.
4. Don't believe in gimmicky diet pills - Don't waste money on gimmicky pills touted as weight-loss vitamins. If it was that easy, they wouldn't have to sell it. If a diet doesn't require a lifestyle change, then it will not provide long-term weight-loss results.
5. When a friend recommends a diet, check the long-term results on the diet before considering it - Did users gain the weight back? Diets are different for each individual; it is best to choose a natural weight loss that offers long-term results. Look and see; did people on that diet really kept the weight off or they gained it even more?
The SlimPlate System, created by the doctors, is unique as it saves money by not having to buy frozen foods or diet pills. People can lose weight and build a diet around the everyday foods they eat by using the SlimPlate System. More information about SlimPlate System weight loss method can be obtained at http://www.slimplatesystem.com.
Credentials: Dr. Sandeep Grewal and Dr. Myo Nwe are the founders of Ace Medical Weight Loss Center, the inventors of the SlimPlate System and its related mobile apps. Dr. Nwe is a diplomate of the American Board of Obesity Medicine and Internal Medicine. Dr. Grewal a diplomate of the American Board of International Medicine. He has been named one of Charlotte Business Journal's "Forty Under 40", received the magazine's 2012 "Innovation in Healthcare" award and Vitals "Top 10 Doctor" 2013 award.
Interviewing Availability: North and South Carolina, nationwide by arrangement and via telephone; often available last-minute.
Contact: Dr. Sandeep Grewal, (803) 325 2236 (SC); doctor(at)acemedicalgroup(dot)org