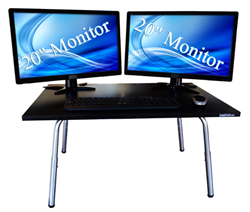 Sitting all day is not good for anyone. Why sit hour after hour when you can stand at work, feel more energized and get healthier every day? Day Martin, Inventor and CEO, Stand Steady.
Vienna, VA (PRWEB) April 09, 2014
As medical evidence mounts on the dangers of sitting all day, demand has heightened for standing desks to lower health risks but they came at a big cost -- until now. When Day Martin couldn't find an affordable standing desk to alleviate her own back pain, she invented the Stand Steady and launched the company online in March 2013. Stand Steady has grown by leaps and bounds in its first year, offering a standing desk option that's adjustable and fits on top of any existing desk.
Stand Steady's durable standing desks have sold in 48 states nationwide, including Alaska and Hawaii, with strongest sales in urban and health-conscious markets such as Boston, Chicago, Washington, DC, Oregon and northern California. Primary purchasers are people with back pain, knowledge workers, universities, healthcare facilities, and others who want to avoid the dangers of sitting too much.
"Medical research shows sitting more than six hours a day can cause disease, aggravate chronic pain and even shorten lifespan by two years," said Day Martin, entrepreneur, inventor and CEO of Stand Steady. "The health benefits people can gain with a standing desk are too important to offer only to those with lots of expendable income. I wanted to provide an option at a reasonable price for individual workers, as well as companies that invest in the health and wellness of their employees."
Workers who want to move into healthier workdays can get a Stand Steady desk for $189.99, an affordable option with the durability that makeshift solutions lack. For a desk large enough to hold two monitors, the Executive Stand Steady, $249.99, provides a surface of almost 5 square feet, allowing monitors to be positioned to suit a user's needs. Stand Steady also pairs well with other ergonomic solutions, including monitor arms or stands and workout equipment, such as elliptical trainers. Deskhacks.com calls Stand Steady "the Perfect First Standing Desk."
"A standing desk isn't just about standing all day. It's also about more energy and alertness, improved posture and core strength," Martin said. "When I started standing at work, I felt energized and finally had relief from back pain. Our customers tell us how much they like standing, saying they move around more throughout the day and are more engaged with co-workers." Martin adds that standing desks make collaboration easier.
The Stand Steady desk is compatible with existing cubicles and office furniture, and is available in a variety of colors to match office décor. The simple, sturdy design requires only five minutes of assembly and quickly adjusts to individual height—a feature lacking in many other desktop and standing desk models.
"In addition to helping people like me with back pain or injuries from sports or car accidents, the Stand Steady is also a great way to burn extra calories – 10-25 pounds per year depending on your weight – and avoid those afternoon blahs."
The Stand Steady desk is completely manufactured in the U.S., with its main parts made in North Carolina and New Jersey.
Pinterest
Vimeo