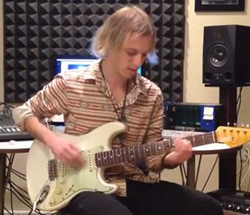 (PRWEB) April 04, 2014
A "riff" is the catchy part of a song that sticks in your head. One of the most recognizable guitar riffs of all time is "Smoke On the Water" by Deep Purple.
"This is a blues in the key of D and the guitar playing is a bass line and this is a fun riff to play," says MacLennan. Jon explains how to play this easy blues riff as follows; start off with your first finger on the 5th fret of the 5th string and play that note twice. Next, move up one octave to the 7th fret of the 3rd string with your 3rd finger and play that note twice. Next, he plays the 5th fret of the 3rd string with his first finger and follows that with the 7th fret of the 3rd string with his 3rd finger and then back to the 5th fret and finally ends the riff on the 7th fret of the 4th string with his 3rd finger. This sequence is played with some eighth notes and a triplet and he counts it as 1 & 2 & 3 & A 4. Guitar TAB's are available for this blues guitar lesson at BluesGuitar.com.
George "Buddy" Guy is an American Blues Guitarist from Lettsworth Louisiana. He is a pioneer of the Chicago Blues genre and was a member of the Muddy Waters band in the 1960's. Buddy was a big influence on the players like Eric Clapton, Jimmy Paige and Stevie Ray Vaughan. Guy is ranked number 30 on Rolling Stones list of "100 Greatest Guitarists of all Time." Over the course of his career, he has played on 72 albums and has won six Grammy Awards and was inducted into the Rock and Roll Hall of Fame in 2005.
Jon MacLennan
Los Angeles-based guitarist Jon MacLennan began his career at the age of 16 and is one of the busiest upcoming session guitarist, artist, composer, producer, and professional educator in LA. Jon has done session work for Julian Lennon, Steven Tyler, and British pop star Jamie Cullum. He has appeared on Disney channels "The Suite Life of Zack and Cody" and on the sound track to the movie "Marley and Me 2 – The Puppy Years." MacLennan earned a bachelor's in ethnomusicology and jazz guitar studies from University of California, Los Angeles, and has been mentored by Carl Verheyen, Wolf Marshall, Kenny Burrell, Anthony Wilson, Tamir Hendelmen, Jimmy Wyble and Ron Anthony which has made him a highly sought after guitar instructor today.
About BluesGuitar.com
BluesGuitar.com is the leader in modern blues guitar instruction. It's packed with recourses including articles, video lessons, and the best videos in the business for the beginner to the advanced guitar student taught by the best instructors out there.