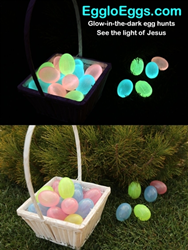 Simi Valley, California (PRWEB) April 08, 2014
Egglo Entertainment recently launched a unique, fun, and exciting product line of glow-in-the-dark Easter eggs known as Egglo Eggs. This product line stands out because it strives to incorporate the Christian message of Easter into a family friendly glow-in-the-dark egg hunt.
Darcie Cobos is the founder and owner of Egglo Entertainment, and is the inspiration behind the Egglo Eggs experience. Her goal is to help children of all ages to fully understand the sacrifice of Jesus and the hope of His rebirth in a fun and exciting way.
"A few years ago, I worked with my church's children's director on a Glow In The Dark Easter Egg Hunt. We managed to pack the house like never before, and the children were beside themselves with anticipation and excitement!" Mrs. Cobos said. "I knew that I had to share this success with parents and religious educators to change the way children learn the message of Jesus through the Easter story."
There are two key components of Egglo Eggs products. The first is the eggs themselves, made of a powerful but safe phosphorescent material that can be used over and over again simply by charging them in either sun or artificial light. The eggs glow for about 45 minutes to one hour before slowly fading. Egglo Eggs can be opened to contain any treasure you would like the children to discover, and are practically indestructible as tested by kids.
The second component is the curriculum, known as The Egg-cellent Easter Adventure. This material consists of a beautifully illustrated book explaining the meaning behind the eggs, a DVD, and a professional audio version of the book. These are perfect for the classroom or the home, and adults will be guided through the program so everyone can get the most out of Egglo Eggs!
"I set out to share this idea with parents and teachers after discovering that there were no other glow-in-the-dark Easter eggs available," Mrs. Cobos commented. "The Egglo Eggs Egg-cellent Easter Adventure is such a tremendous program that truly comes from the Lord."
Purchase Egglo Eggs products or find out more information about Egglo Entertainment at http://EggloEggs.com/