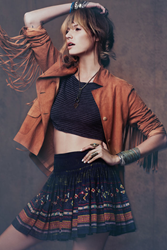 There is undoubtedly a strong connection between the Free People lifestyle and the women who live here.
Phoenix, AZ (PRWEB) April 08, 2014
Specialty clothing brand, Free People, will open its 92nd boutique just outside of Phoenix, AZ at Chandler Fashion Center on April 25th, 2014. Just steps from the center's dazzling outdoor spaces, the new boutique will boast a beautiful 2,700 square foot space on the mall's first level. Free People's assortment will bring an eclectic mix of unique fashion for the Phoenix customer.
Phoenix has proven to be a healthy and growing market for Free People as it opens its third boutique in the area. The brand currently operates two locations in the suburb of Scottsdale and local fans continue to increase their demand for the brand's coveted styles. In response, the retailer has gone forward to open its doors at Chandler Fashion Center, the second largest shopping center in Phoenix's metropolitan area.
"We are excited to enter into the Chandler market after the success we have seen in our Scottsdale stores," says Beth Wehagen, Free People Director of Retail. "There is undoubtedly a strong connection between the Free People lifestyle and the women who live here."
The new boutique will be designed to feel like the Free People girl's 'workshop.' Rustic materials such as natural rough sawn wood columns, wide plank floors, white bead board walls, and blackened steel elements create the feel throughout. Feminine touches of glitter plaster walls and patchwork curtains balance out the tougher materials. At this particular location, customers will be welcomed through a reclaimed wood and glass double door entry with brick pavers under foot. Five fitting rooms are housed in the space, and vibrant color is featured behind the cashwrap with a wooden crate and yarn installation.
At opening, the Chandler Fashion Center boutique will carry a wide assortment of high summer must-haves. For those venturing to music festivals or heading on a summer trip, all fashion needs will be covered. In outfitting, the brand is excited to present a modern bohemian girl with a mixture of tomboy cool and ethnic-inspired details. Color, print, embroidery, and embellishment will be prominent across the entire assortment. To round out Free People wardrobes, the location will also house the brand's Intimately Free People line of bras, undies, slips, seamless layering pieces, and loungewear.
"Our goal is to introduce great retail for our fashion-conscious guests, and we take pride in offering a wide selection of stores with the latest and greatest merchandise," says Christina Lanoue, Property Manager at Chandler Fashion Square. "We are truly excited to add Free People to the Chandler Fashion Center family of stores."
To celebrate on opening day, Free People will be giving gifts to the first 50 customers that purchase. Nekter, who also recently opened a location in Chandler, will be serving juice samples and cocktails, and a photobooth will be in place for guests to show off their new Free People looks.
Each Free People store offers personalized shopping experiences from a team of expert stylists. Customers can schedule a one-on-one appointment with their favorite stylist, as well as interact and gain inspiration through the brand's online Style Community, FP Me. In addition to offering personal styling, Phoenix fans can look forward to a variety of in-store events to be hosted at the Free People Chandler Fashion Center boutique throughout the year.
Free People will be located at Chandler Mall, 3111 W Chandler Blvd., Chandler, AZ 85226. Store hours will run Monday-Saturday 10am-9pm, and Sunday 11am-6pm. Fans should "like" the store on Facebook to stay up-to-date on all of the latest arrivals, events, and other happenings: https://www.facebook.com/events/616628761753742/.
For more information, images, to request an interview, or to discuss a TV opportunity, please call Naomi Huober at 215-454-5808.
About Free People
Free People is a specialty clothing brand featuring the latest trends and vintage collections for women who live free through fashion, art, music, and travel. The eclectic look consists of quality apparel, shoes, and accessories that invoke attributes of femininity, spirit, and creativity with its design. Free People is distributed globally via direct channels including the Free People Global site and Free People UK site, as well as specialty boutiques, top department stores, and the brand's free standing retail locations in the U.S. and Canada.
About Macerich
Macerich, an S&P 500 company, is a fully integrated self-managed and self-administered real estate investment trust, which focuses on the acquisition, leasing, management, development and redevelopment of regional malls throughout the United States.
Macerich currently owns 56 million square feet of real estate consisting primarily of interests in 54 regional shopping centers. Macerich specializes in successful retail properties in many of the country's most attractive, densely populated markets with significant presence in California, Arizona, Chicago and the Greater New York Metro area. Additional information about Macerich can be obtained from the Company's website at http://www.macerich.com.