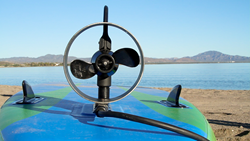 Seattle, Wa (PRWEB) April 05, 2014
Seattle based start-up, Current Drives LLC doubled its fundraising goal on popular crowdfunding site Indiegogo with the first electric fin motor system for stand-up paddle boards called the ElectraFin.
The ElectraFin propels users on paddleboards, longboards and kayaks using electric power. The ElectraFin allows users to go further and access waterways that would be hard to reach on human power alone.
When combined with Current Drives 11' 6'' Inflatable paddle board, users have the most compact human electric hybrid watercraft on the market that fits into the supplied backpack for transport and storage.
The Current Drives LLC crowdfunding campaign will run until April 7, 2014. Early supporters receive exclusive updates and savings of up to $600 on the ElectraFin and inflatable stand-up paddle boards.
Current Drives LLC is accepting applications for new dealers and sales reps interested in selling the ElectraFin in their markets. Dealers can lock in their exclusive sales territories by pre-purchasing dealer packages on the Indiegogo campaign, http://www.indiegogo.com/projects/electrafin-by-current-drives-electric-powered-fin-inflatable-paddle-boards.
President and Co-Founder Mike Radenbaugh is happy to see a positive response from the water sports community, "We have been flooded with inquiries from surf and paddle shops wanting to get the ElectraFin onto their shelves. The shops see the ElectraFin as a great way to offer their customers something new and exciting."
In completion of the Indiegogo campaign, Current Drives LLC will fulfill pre-purchase orders and dealer packages.
ElectraFin and Inflatable Paddle Board intro video: https://www.youtube.com/watch?v=oVSvbFtiIbg.
For more information on Current Drives LLC and the ElectraFin, email sales(at)currentdrives(dot)com, or visit them online at http://www.currentdrives.com.
About Current Drives LLC
Current Drives LLC, Formerly Rad Power Bikes, was founded in 2007 with a goal of promoting electric vehicles through design, sales, and service of custom electric bicycles. They didn't stop with electric bicycles though, and started to explore the possibilities of bringing clean, quite, and fun electric drive systems to the water sports market.