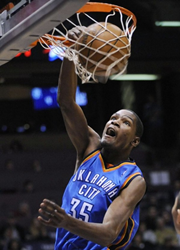 Denver, Colorado (PRWEB) April 05, 2014
The Thunder rolled last Thursday night, shutting down the Spurs who were riding the longest winning streak in the NBA this season. Hot-shooting Kevin Durant and Number Two ranked Oklahoma City also denied San Antonio the chance to tie for the fourth-longest winning streak in league history.
San Antonio's historic undefeated run ended at 19 games instead. Despite the loss, the top rated Spurs now continue to hold a three game advantage with just six games remaining on the 82-game NBA regular season schedule.
The Spurs outscored opponents by 16.8 points per game during their run while maintaining the NBA's No. 1 offensive (112.6 points per 100 possessions) and defensive (96.4/100) ratings. On Wednesday, they clinched their third straight Southwest Division title with a dominant 111-90 home victory over the Golden State Warriors. It was the Spurs sixth division title since realignment before the 2004-05 season.
"While MLB Baseball tickets are trending, we're seeing strong sales for several NBA teams as playoff races reach their peak," said Marta Ault at online ticket marketplace BuyAnySeat.com.
"That's why we're proud to offer fans the most comprehensive and continuously updated selection of sports tickets online, with a worry-free guarantee to protect their purchase.
"To access the full line-up of NBA Basketball tickets now available, customers can go to BuyAnySeat.com and click on NBA to select their team and their tickets," said Ault.
Meanwhile, the Thunder have now won three in a row and seven of their last eight as of April 4. The win earned them a seven game lead over the Portland Trail Blazers in the Northwest Division, but the team faces a tough closing schedule as they look to overthrow San Antonio for the top seed.
Oklahoma City has won five in a row against the Spurs and five of their last six at home against the team. Star forward Kevin Durant extended his streak of 25-point games to 39 Thursday, as he seeks to top Michael Jordan's 40 game tally, posted during the 1986-87 season. Jordan's mark is the longest such streak in the past 50 years.
Oklahoma City still has a chance to take the top spot and home court advantage all throughout the NBA Playoffs if the Spurs falter down the final stretch. The NBA regular season is set to run through April 16, 2014, followed by the playoffs and finals in June.
Key matchups over the next few days for the Thunder include the Suns in Phoenix on Sunday night, and a difficult road matchup against the Clippers in Los Angeles on Wednesday April 9.
The Spurs toughest remaining games fall further down the stretch as they face the Suns at home on Friday April 11, before their final road matchup of the season in Houston on Monday April 14.
To shop for discount NBA Basketball tickets, visit BuyAnySeat.com.
About BuyAnySeat.com:An online ticket marketplace, BuyAnySeat.com connects sports, theater and other live entertainment fans to an extensive network of ticket sellers worldwide. The site's simplified listings and navigational tools enable shoppers to easily locate, compare and purchase inexpensive, discounted or lower-priced tickets to virtually all advertised sports and entertainment events around the globe.
The ticket marketplace, which is PCI-compliant and Norton Secured, also provides customers with a complete Worry-Free Guarantee on all ticket purchases. Based in Denver, Colorado, BuyAnySeat.com is a subsidiary of Denver Media Holdings. For more information, please visit http://buyanyseat.com.