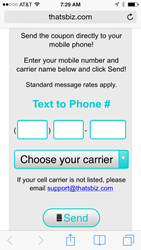 Customers can text coupon offers to their phone they find in their Twitter feed making it easy to find the coupon when they need it.
Bloomfield Hills, MI (PRWEB) April 14, 2014
That's Biz announces the first coupon system allowing restaurants and retailers to tweet coupon offers to their Twitter followers that customers can text to their smartphone for easy retrieval. The coupons can be restricted to a single use without POS integration and can no longer be viewed when the coupon is redeemed or past the coupon expiration date. The coupons are redeemed on the customer's smartphone simply by the customer touching the screen and showing the phone to the store personnel.
"Restaurants and retailers know that it takes great offers to drive customers in the door," said Dave Gonynor CEO of That's Biz. "The challenge with posting coupons on Twitter is limiting the coupon to a single use. Now restaurants and retailers can tweet offers they can restrict to a single use without any expensive POS integration. Customers can retweet great offers to friends and followers and everyone merely requests their own coupon by texting it to their phone."
In its fourth quarter 2013 financial results, Twitter revealed that the social network has now passed 241 million monthly active users, 184 million of which were monthly active mobile users. Customers are already texting coupons they find on the leading retail websites to their smartphones. Now customers can text coupon offers they find in their Twitter feed from the restaurant and retailers to their phone, making it easy to find the coupon when they need it.
"Customers hate missing out on a great deal," Gonynor continues. "Now when they see a great coupon offer in their Twitter feed, they can text the coupon to their phone for easy retrieval. The restaurants and retailers love it because great offers on Twitter get retweeted and shared with friends giving their coupon offers even greater exposure."
The That's Biz coupon texting solution does not require a restaurant or retailer to sign-up for a text marketing service and requires no expensive POS integration to redeem the coupons.
That's Biz has been providing email marketing, social marketing and text marketing solutions since 2007. Hundreds of businesses across North America use their smartphone coupon solutions.