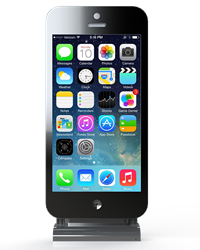 iOS 7 looks amazing on an 80 inch touch screen. - Neil Dufva, CEO
Orlando, FL (PRWEB) April 11, 2014
Crunchy Logistics upgraded Padzilla, the giant iPad accessory, to function on the new iOS 7 operating system. Padzilla allows users to interact with their iPhones and iPads seamlessly on large touch screen displays, ranging from 40 to 80 inches in size. iOS 7 is the world's most advanced mobile OS, with all new design and features.
Apple's iOS upgrade to iOS 7 is a huge change in its operating software design. Crunchy Logistics' software team studied iOS 7 inside and out in order to make the corresponding updates to the custom Padzilla software. The Padzilla software runs through an application that allows devices to connect and interact directly with large touch screens.
"The Crunchy software team worked some long hours to figure out iOS 7, and we are very excited to show the results of our hard work," says Neil Dufva, CEO of Crunchy Logistics. "iOS 7 looks amazing on an 80 inch touch screen."
This week, Apple released news that iOS 7 has been adopted by 87% of iOS devices, just less than seven months after the new upgrade's release. This adoption rate is significantly higher than competitors such as Android, and demonstrates the success of iOS 7's user friendly interface. Crunchy is excited to share this amazing software with users on Padzilla's giant touch screen display.
About Padzilla
Padzilla is an interactive accessory for iPads, iPhones, and Android devices. The display incorporates the latest multi-touch technology and software to allow your mobile tablet or phone to be increased in size, and interact with over 1,000,000+ applications on a larger than life, touch screen display.
Learn more about Padzilla at http://www.crunchy.co/padzilla.
About Crunchy Logistics
Crunchy Logistics is a pioneering technology firm based in Orlando, Florida. Crunchy specializes in connecting companies to customers in innovative ways. Crunchy uses bleeding-edge technology to design and implement enchanting environments that actively engages customers with company brands. From the larger than life Padzilla digital display to the interactive MIKASA media platform, Crunchy technology connects businesses to customers on a whole new level of engagement. Crunchy Logistics is unique because of its diverse team of experts in various fields, including software development, engineering, digital media, interactive technology and audio/visual design.
Crunchy services include all-in-one solutions to diverse technology needs, including system creation, development, management, and 24/7 technical support. Crunchy's goal is to give organizations perfectly tailored systems that are customized to fit their needs. Crunchy works one-on-one with clients to create permanent benefits for their organizations.