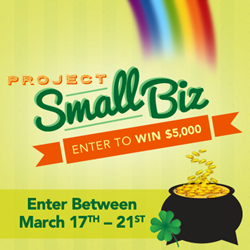 "One of the best parts of meeting small business owners is assisting entrepreneurs to grow or sustain their enterprise."
New York, NY (PRWEB) April 08, 2014
Fora Financial announces that Tea & Jam, a bakery based in New York City, won its "Project Small Biz" Facebook contest by tallying the most votes. Tea & Jam is an online-based, grain-free bakery and delivery service striving to provide healthy alternatives to traditional baked goods, without compromising taste. This is particularly valuable to people with restricted diets.
"We were eager to extend Project Small Biz into a second round after its initial success in January," said Fora Financial CEO & Founder, Jared Feldman. "Project Small Biz has not only allowed Tea & Jam to win $5,000 to help its business grow, but it has allowed us to build relationships with small business owners in need of funding. One of the best parts of meeting small business owners is assisting entrepreneurs to grow or sustain their enterprise."
Tea & Jam owners Jamaal Brown and Tiyana Works said they plan to use the prize to grow their business, which they started in 2013. "The money will help us to update our website, invest in marketing strategies and secure commercial kitchen space," said Brown. "We're currently a small scale operation. Winning Project Small Biz will definitely help us to grow our consumer base and expand our operation."
Works added, "Our business is thriving, but it's hard to gauge our success since we only opened about 10 months ago. We're thrilled for this opportunity as a new, small business to continue growing in a competitive neighborhood of New York City."
After receiving feedback from the first round of the contest, Fora Financial incorporated separate entry and voting periods to ensure all contestants had an equal opportunity to obtain votes. Project Small Biz had nine contest entries from a variety of industries, including restaurant, services, retail, nonprofit, healthcare and insurance businesses.
For more information about Fora Financial, please visit http://www.forafinancial.com. To find out more information about Tea & Jam, visit http://www.teanjam.com.
About Fora Financial
Fora Financial offers flexible, working capital solutions to small businesses in need of financing to sustain or grow their enterprise. The Manhattan-based company places a high value on trust and transparency and provides businesses with quick, customized financial solutions utilizing its state-of-the-art technology platforms. Founded in June 2008, Fora Financial has a total of 77 employees who have provided more than $178 million to over 4,500 customers.
###