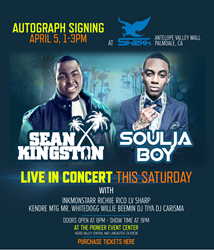 'We look forward to having the opportunity to bring Sean Kingston and Soulja Boy and their fans together...It's a great feeling to be able to help and artist connect with his our her fans...' -Kofi Amankwa, Shiekh Shoes marketing director
Palmdale, CA (PRWEB) April 04, 2014
Urban contemporary footwear retailer Shiekh Shoes, in partnership with Sky Entertainment, is excited to host a pre-concert autograph signing with Sean Kingston and Soulja Boy at its Antelope Valley Mall location on Saturday, April 5, 2014. The chart-topping artists will participate in a meet-and-greet with fans prior to performing at Lancaster's Pioneer Event Center.
The public is invited to attend the autograph signing from 1 p.m. to 3 p.m. on Saturday for the opportunity to meet Sean Kingston and Soulja Boy and take home an autographed keepsake from the "Beautiful Girls" and "Crank That (Soulja Boy)" artists.
"We look forward to having the opportunity to bring Sean Kingston and Soulja Boy and their fans together for a fun afternoon," said Kofi Amankwa, marketing director at Shiekh Shoes. "It's a great feeling to be able to help an artist connect with his or her fans at events like this."
Shiekh Shoes is a footwear and apparel retailer selling products for men, women and kids from top brands like Nike, Adidas, Converse and Puma. Based in Ontario, Calif., Shiekh Shoes operates nearly 140 stores in California, Oregon, Nevada, Washington, Arizona, New Mexico, Illinois, Tennessee, Michigan and Texas as well as an online store at ShiekhShoes.com. Products featured range from athletic shoes and sneakers to women's dress and casual shoes and boots to shoes for the kids. Special offers include new releases and exclusives from top brands like Jordan, Nike and Reebok.