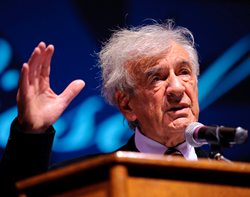 Orange, CA (PRWEB) April 06, 2014
Nobel Peace Prize laureate, human rights activist and Holocaust survivor Elie Wiesel returns to Chapman University April 6-13, 2014 for his annual visit with students and faculty. Wiesel's week at Chapman is one of the yearly highlights among the scholarly activities, lectures and events presented by The Rodgers Center for Holocaust Education, one of the university's premier research programs.
Chapman University President Jim Doti has praised the Wiesel visits as unique opportunities for students that "will have an impact on their years here at Chapman and on the way they look at the world."
This visit marks the fourth year of Wiesel's five-year Chapman appointment as a Distinguished Presidential Fellow. Previously he has participated in a variety of events during his visits, including a series of dialogues with faculty and students, public lectures and a reader's theatre performance of his writing.
Reserved seating for this year's featured events with Professor Wiesel is SOLD OUT and is now closed, but stand-by lines will be available. The events include:

"Stories and Memories: From Always and Now," Tuesday, April 8 at 11 a.m. Professor Wiesel, in an onstage conversation with Chancellor Daniele Struppa, will discuss the writing and storytelling process in front of an audience of Chapman students and faculty. This event is open only to the Chapman community and is sold out.
"An Evening of Stories and Storytelling," Thursday, April 10, at 8 p.m.– This is Wiesel's only public event during his visit and tickets are sold out, but there will be a stand-by line. Chapman Department of Theatre students, under the direction of Dr. Nina LeNoir, will perform excerpts from two of Wiesel's works, "King Solomon and His Magic Ring" and "The Golem," onstage in the Fish Interfaith Center. Wiesel will join them onstage at the conclusion to share a story.
Elie Wiesel is the author of the international bestseller "Night," a work based on his experiences in the Auschwitz, Buna and Buchenwald concentration camps, and more than 60 other books. He received the Nobel Peace Prize in 1986 for his work as a "messenger to mankind" of "peace, atonement and human dignity." He accepted the position of Distinguished Presidential Fellow at Chapman University in 2010, a five-year appointment during which he will visit Chapman each year to meet with students and classes in a variety of subjects, from Holocaust history to languages, religion and literature. Wiesel serves on the faculty of Boston University as the Andrew W. Mellon Professor in the Humanities, and retains that position while carrying out his Distinguished Presidential Fellowship at Chapman University.
Wiesel first visited Chapman University in April 2005, when he took part in dedication ceremonies for the university's Sala and Aron Samueli Holocaust Memorial Library. His second visit to Chapman took place in April 2010, when he spoke to the university community, was guest of honor at a gala marking the 10th anniversary of Chapman's Rodgers Center for Holocaust Education and Stern Chair in Holocaust Education, and was announced as having accepted a Distinguished Presidential Fellowship at Chapman. He has returned each year since then.
About Chapman University
Consistently ranked among the top universities in the West, Chapman University provides a uniquely personalized and interdisciplinary educational experience to highly qualified students. Our programs encourage leadership in innovation, creativity and collaboration, and focus on developing global citizen-leaders who are distinctively prepared to improve their community and their world. Visit us at http://www.chapman.edu.
Follow us on Facebook: http://www.facebook.com/ChapmanUniversity
On Twitter: @ChapmanU
On YouTube: http://www.youtube.com/ChapmanUniversity