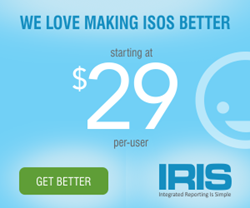 New York, NY (PRWEB) April 07, 2014
Integrated Reporting Is Simple (IRIS) announced this past Friday that it now offers Adobe's EchoSign E-Signature technology in its existing sales automation and merchant transaction tracking system. EchoSign, a Web 2.0 electronic signature provider used by other industry leaders such as Google and NetSuite, allows users to send, sign and manage contracts - all within the cloud. Independent Sales Organizations (ISOs) and their field agents will benefit from accelerated signing of merchant processing contracts. The E-Signature process is performed securely and in significantly less time than traditional paper methods.
Once completed digitally, a merchant contract is instantly transmitted into IRIS for account on-boarding. Doing so, IRIS aids ISOs and their agents by automating and streamlining the sales process.
The merchant receives a digital copy of the contract with all of the required fields denoted and then signs the document by drawing their signature or typing their name on-screen. Once the document is signed by the merchant, all of the information will now be instantly delivered into IRIS taking away the process of double-keying.
TurboApp, the proprietary boarding tool from IRIS, collects all of the information entered by merchants and transmits the data to various integrated processors and banking systems. Sales organizations can be confident in the authenticity of signed contract information as EchoSign maintains compliance with global electronic signature regulations.
"We are pleased to have the opportunity to partner with Adobe in the successful integration of EchoSign features into the IRIS ecosystem," said Dimitri Akhrin, President of Integrated Reporting Is Simple (IRIS). "As a result, the independent sales channel will now have access to a quick, secure electronic signature capability for dealing with merchant contracts, empowering sales reps to sign businesses at a higher rate while securely recording contract information."
Learn more about the IRIS and the Adobe EchoSign integration.
About IRIS:
IRIS is an ecosystem created and tailored for the payments industry. IRIS serves Independent Sales Organizations (ISOs) with a robust tool set for new account boarding, transaction tracking and an advanced sales pipeline management system. IRIS does not require software installation and is deployed as a Software as a Service (SaaS) package of modules.
Contact:
Jason Weinberger, Sales Manager
Integrated Reporting Is Simple (IRIS)
(888) 870-9978