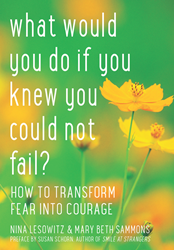 (PRWEB) April 07, 2014
In What Would You Do If You Knew You Could Not Fail?: How to Transform Fear into Courage, co-authors Nina Lesowitz and Mary Beth Sammons of the bestselling Living Life as a Thank You present stories of bravery and determination to teach everyone that courage comes from taking action before being forced to do so, along with ways to get in touch with inner power.
What people have been saying about What Would You Do if You Knew You Could Not Fail? (also available in audio) recently:
"It's all about converting your fears into courage. I highly recommend picking it up." —Me and Meg
"Part daily motivational, part narrative, the collection of stories in What Would You Do If You Knew You Could Not Fail?: How to Transform Fear Into Courage offers short yet powerful glimpses into lives of men and women who don't necessarily make the front pages of news websites, nor do they trend on social media. Rather, these heroes and heroines humbly share their stories ranging from community organizers, care givers, athletes, immigrants, military service people, Holocaust survivors and teenagers chasing their dreams. Their common thread? They are ordinary people, who, in the face of adversity, dig deep and achieve more than they ever knew they could." —Mamawolfe
"Nina Lesowitz and Mary Beth Sammons... [provide] practical guidance on how to find strength within oneself to overcome paralyzing fears and difficult obstacles." —Foreword Reviews
"This is an excellent pick me up book. Feeling down? Need a little push to help you get your life started in the direction you'd like to go? What Would You Do If You Knew You Could Not Fail?" —Networking Witches
About the Authors
Nina Lesowitz is an award-winning marketing professional who runs Spinergy Group, which represents authors, corporate clients, and nonprofits. She, along with Sammons, coauthored the best-selling Living Life as a Thank You and Living Life as a Thank You: My Journal. She lives in Northern California with her husband and two daughters, and she does volunteer work for local literary organizations and schools.
Mary Beth Sammons, a 20-year veteran reporter, specializes in community journalism and her work has appeared in the Chicago Tribune and Crain's Chicago Business. At the national level Sammons regularly appears in AOL Health, Family Circle, and Beliefnet.com. She has written 10 books about wellness, health, ordinary people doing extraordinary things, and other lifestyle issues, including: Second Acts That Change Lives: Making a Difference in the World and We Carry Each Other: Getting Through Life's Toughest Times. She lives with her three children and she still finds the time to train and compete in triathlons and half-marathons.