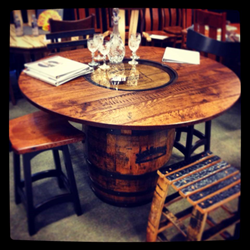 Most people don't realize the variety of styles and products available from our domestic vendors. There is, quite literally, nothing we can't do. - James PrutilpacSales Manager
Morgantown, WV (PRWEB) April 05, 2014
The heart of Ohio's Amish country has been huge in establishing a resurgence of American-made, solid wood furniture. Many furniture stores still rely on the cheap prices of foreign imports. Chuck's Furniture is not one of those. In recent years, they have pushed for greater value, which they feel can increasingly be found in America.
James Prutilpac, the Chuck's sales manager, says, "We haven't abandoned imported furniture. It definitely has a place and fills a need but that isn't all we want to offer our customers. While solid wood furniture made domestically has a higher cost, we do believe that it is a better value in the long run. We want to offer options our local competitors simply aren't willing to carry."
"Going to Ohio give us a chance to see products most stores never will," says James. "There are some very unique pieces that we think our customers will love. There are also great deals to be had. When customers come to Chuck's, we can offer a higher quality product at the same, or sometime lower prices than our competitors."
Because these pieces are built specifically for Chuck's, they will be trickling in over time. James will also be traveling to North Carolina this coming week for the High Point Furniture Market. Stay tuned for new furniture and great deals.