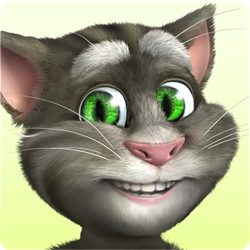 (PRWEB) April 23, 2014
Global entertainment company, Outfit7 has brought its famously popular character, Talking Tom, to Intel® Atom™ tablets for Android*. Now available for immediate download, Talking Tom Cat 2 offers tablet users the best kind of funny escapism.
Talking Tom Cat 2 is the updated and improved version of the original global entertainment sensation, Talking Tom Cat. Having achieved over 350 million global downloads to-date, Talking Tom Cat 2 brings endless amusement to the whole family as they hear their furry friend repeat their own words in his hilarious voice. Users can play with Talking Tom by stroking him, poking him and challenging him in an all-new mini-game. Talking Tom can also be customized with numerous outfits and accessories. Additional features include the ability to record Talking Tom's interactions to send to friends or upload on Facebook and YouTube.
During the optimization of Talking Tom 2 for Intel Atom tablets for Android*, the Intel® Developer Zone offered guidance and support to the app's developers.
"Talking Tom Cat 2 is engaging and family-friendly entertainment, which looks great on these Android* tablets thanks to their high definition screens," says Samo Login, Co-Founder and CEO of Outfit7. "Our fun app uses the full potential of Intel® Atom processors by allowing beautiful, fluid animations while delivering the most life-like experience yet."
Talking Tom Cat 2 is available for immediate download on Google Play.
https://play.google.com/store/apps/details?id=com.outfit7.talkingtom2free
About Outfit7
Best known for its global phenomenon Talking Tom, Outfit7 is one of the fastest-growing media entertainment companies on the planet.
Outfit7 was founded by a group of entrepreneurs in 2009 whose mission is to bring fun and entertainment to all. Its flagship app franchise Talking Tom and Friends has achieved over 1.5 billion downloads since its launch in 2010 and continues to grow with 230 million active users each month.
Talking Tom and Friends are unique fully animated 3D animal characters who love to be petted and played with through an array of in-app user functions. Each with their own distinct personality, Talking Tom, Talking Angela, Talking Ginger, Talking Ben, Talking Pierre and Talking Gina are fully interactive and can engage in two-way conversations with users. Fans can even create and share videos of interactions with their favorite characters via Facebook and YouTube.
The popular characters started life in the digital world and now Talking Tom and Friends extend from mobile apps to chart-topping YouTube singles, animated web series, innovative merchandise and a soon to be released TV series.
Out Fit 7 Limited is a global company with offices and subsidiaries in London, England; Ljubljana, Slovenia; Limassol, Cyprus; Seoul, South Korea; and Palo Alto, USA.
For more information, please visit http://www.Outfit7.com and http://www.talkingtom.com or visit our Facebook, Twitter or YouTube pages.
About Intel® Developer Zone
The Intel Developer Zone supports developers and software companies of all sizes and skill levels with technical communities, go-to-market resources and business opportunities. To learn more about becoming an Intel® Software Partner, join the Intel Developer Zone. To learn more, visit: http://software.intel.com/
Intel, the Intel logo and Intel Inside are trademarks of Intel Corporation in the U.S. and/or other countries.
*Other names and brands may be claimed as the property of others.
Copyright © 2014 Intel Corporation. All rights reserved.