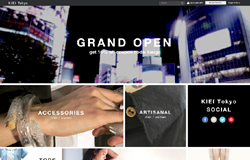 Tokyo, Japan (PRWEB) April 07, 2014
KIEI Tokyo (https://kieitokyo.com), a global E-retailer, is officially open, offering a wide selection of up-and-coming fashion brands from Japan. The KIEI Tokyo beta version of the website pre-opened in December 2013 and has already attracted considerable attention from the Japanese fashion scene and young fashion designers as well as overseas customers. The site offers shipping to more than 100 countries. Hundreds of thousands of users have visited the site every month, and purchases have been made by fans from all over the world, including Hong Kong, Italy, UAE, and Russia. Approximately 50 brands, including Yasutoshi Ezumi, are now available from KIEI Tokyo.
KIEI Tokyo offers three advantages to those living outside Japan
1. Moderately priced high fashion
2. Fresh selection (brands never before seen)
3. Large and varied product lines (many up-and-coming brands in various categories)
For overseas buyers, KIEI Tokyo plays an important role as a distributor of Japanese cutting-edge brands and showcases new brands in the Japanese fashion market, which can change quickly and is difficult to anticipate. Drop Inc., its operating company, is the press contact for selected brands.
To celebrate the official opening of KIEI Tokyo, the site is now offering a 10 percent-off coupon (enter code "kieigo") to be applied before taxes.
About Drop Inc.
Prior to the opening of KIEI Tokyo, Drop Inc. (headquarters in Shibuya, Tokyo, Japan) invested thirty million yen by listed company Enigumo Inc., which runs the largest fashion commerce site in Japan, BUYMA. Drop, Inc. was established in August 2013 by CEO Ryo Iwamoto and CTO Shin Jimbo. Iwamoto is from Japan's largest venture capital firm; Jimbo was a financial system development engineer. Neither had previous experience in the fashion industry. However, they successfully built the site in two months and are welcoming the participation of many young Japanese designers who wish to be part of the KIEI Tokyo concept.