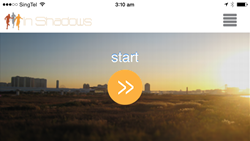 That app truly puts the fun in the run!
(PRWEB) April 08, 2014
InShadows is one of a suite of applications designed by Singapore-based start-up Tenqyu, which use augmented reality to enhance the urban lifestyle. InShadows is currently in beta and will be available for iPhone in Spring and Android in Summer 2014.
The InShadows story
Founder of Tenqyu, Jan Semrau, arrived in Singapore in 2012 after spending time working and living in some of the largest cities in Asia, Europe and America. He was impressed with the infrastructure in the today's urban settings, but disappointed with how people were engaging with that infrastructure. He believed that people living in smartly designed, cosmopolitan cities should experience more than chaos and grey buildings. Jan started dreaming of technology that could enrich peoples' experience of their cities and make their lives inclusive, innovative, healthy, soulful and thriving. The idea for InShadows was inspired by Jan's love of video games and outdoor exercise.
How does InShadows work?
InShadows is a technology-enabled game of tag. It requires at least two players, who each have the InShadows app. Players are divided into "Hunters" and "Shadows". They must try to outwit each other while running. Shadows will score points by tagging Hunters and Hunters will score points by avoiding being tagged. InShadows includes a timer for the game. It also has built-in "radar", which tells Hunters and Shadows when they are near each other. InShadows keeps track of tags by changing color when two players are very close to each other. It also includes a web-based scoring system so that players can keep track of their scores across multiple game sessions.
What does InShadows hopes to achieve?
InShadows has taken on a challenge that began with the genesis of exercise; boring workouts. InShadows is likely to appeal to young, busy urban professionals who want a high-quality, mentally stimulating and social workout experience.
InShadows is one of many applications designed by Tenqyu. Tenqyu hopes to disrupt the way that people traditionally experience urban environment through products that make city life more engaging and convenient. Other products by tenqyu include ParkerMeister, a real-time location-aware augmented reality car- park finder.
Where can you find out more?
On 13 April 2014, InShadows will hold a "beta-run"; a trial game of InShadows using a select group of participants.
If you would like to attend the event as a press delegate, please contact Deevya Desai at deevya.desai(at)tenqyu(dot)com.
If you have questions about InShadows or Tenqyu, please contact Jan Semrau at jan.d.semrau(at)tenqyu(dot)com.
You can also check out the InShadows website (http://www.inshadows.asia) and the Tenqyu website (http://www.tenqyu.com).