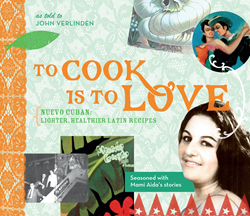 "This is not your grandmother's cookbook--equal parts conversation, cookbook, and memoir, To Cook Is To Love makes Nuevo Cuban cuisine easily accessible to every cook."
Boston, Massachusetts (PRWEB) April 08, 2014
The instant readers crack open To Cook Is to Love, they find themselves transported straight to Mami Aida's home, where she welcomes them like old friends for a delicious dinner, shares her sought after cooking secrets, and tells captivating stories of her remarkable past. To Cook Is to Love is a multigenerational cultural tapestry of Cuban history, life, food, wine, and music told through the heartwarming experiences of Mami Aida who immigrated to the United States and raised her family.
To Cook Is to Love is the must-have modern Latin cookbook for today's health-conscious home chef. Chef and author John Verlinden introduces readers to Nuevo Cuban cuisine, a lighter, healthier, more stylized version of traditional Latin cooking that infuses gusto, soul, beauty and love into everyday meals. Traditional dishes like Arroz con Pollo, Ropa Vieja, and Pierna de Puerco Asada, are reinterpreted with attention to nutrition while never sacrificing that traditional sabor. To Cook Is to Love makes Latin food accessible to chefs of all levels, with 200 easy-to-follow recipes that are accompanied by information boxes about the ingredients, cooking methods and presentation.
In addition to a plethora of delicioso Cuban recipes, To Cook Is to Love is a cultural celebration infused with beautiful illustrations, recipes, wine pairings and music selections intended to capture the reader and chef's palate, senses and soul. This one-of-a-kind cookbook is the perfect guide for any host who not only wants to provide her guests a delicious meal, but also a truly sensational dining experience. With hand selected wine parings and musical recommendations to accompany every moment from set up to clean up, any dinner party with the help of Mami Aida is sure to be a hit.
To Cook Is to Love isn't just a collection of delicious, healthy, Nuevo Cuban recipes. It includes a beautifully crafted collection of pre-revolutionary Cuban memorabilia, vintage family photographs and original illustrations that all help tell Mami Aida's challenging, compelling and inspiring story. Readers will not want to leave Mami Aida's table until they've heard her entire story and tasted every dish!
Praise for To Cook Is to Love
"As a child of Miami, one of the things I missed most when I relocated to Boston was Cuban food. So when Mucho Gusto opened in 1995, I crossed my fingers. On my first visit I was transported to SW Eighth Street with a little bit of the Tropical Park Flea Market thrown in. Ropa vieja, maduros, arroz con pollo — I was back in my neighborhood. John has recreated the recipes from the restaurant and dotted his pages with love for not only the food but a Cuba from another time."
—Al Stankus, former editor and food writer for Boston Zagat, Boston Herald and co-author of Jazz Cooks: Portraits and Recipes of the Greats
"Wonderfully packaged and entertaining … not only an outstanding guide to the cuisine, but a homage to the culture itself — a book to be read and cherished by everyone."
—Oscar Hijuelos, author of The Mambo Kings Play Songs of Love, Our House in the Last World, and many others
"In To Cook Is to Love, Johnny Verlinden not only makes Latin cuisine accessible to health conscious, busy American home cooks, but he masterfully validates the sustaining power of cooking to anchor family and cultural roots across generations and geography. He proves to be a great chef, storyteller, biographer, and nutritionist all at once."
—Micho Spring, chairperson of Global Corporate Practice and president of New England Operations, Weber Shandwick Worldwide, Inc.
"John Verlinden's new book, To Cook Is to Love, is not just another cookbook...the book is full of easy-to-follow (not to mention very tasty) recipes that take traditional Cuban recipes and give them a lighter, healthier spin."
—Color Magazine
About the Author
John "Chef Johnny" Verlinden was the co-owner of Mucho Gusto Café & Collectibles®, the first Cuban-American restaurant in the heart of Boston, which received numerous awards during its lifetime, including the "Best of Boston" by Boston Magazine, "Boston's Best" by Improper Bostonian, and "Top 50 Hispanic Restaurants in the U.S." by Hispanic Magazine. John now works as a personal chef, writer and educator. When he isn't cooking, writing about, or teaching children, adults and health professionals how to make his healthier Nuevo Cuban cuisine, he's engaged in one of his other passions – consulting with businesses, advocating for humanitarian, health, and political issues in his community, or bringing friendship and material goods from the U.S. to the people of Cuba. John resides in Brookline, Massachusetts with his husband of 28 years.