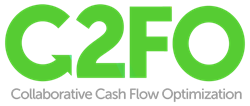 C2FO will provide a much-needed non-bank source of working capital finance to suppliers and will help many small firms stabilize their supply chains.
Kansas City, Mo. (PRWEB) April 10, 2014
C2FO, the world's market for working capital™, announced today that it has signed a partnership agreement with KPMG to offer C2FO's unique working capital solution to KPMG's network of clients in the UK. This new alliance is part of the C2FO global expansion effort giving more companies the opportunity to improve cash flow and increase profit.
Founded in 2008 in Kansas City, C2FO currently delivers more than $1bn in early payment for suppliers each quarter. C2FO is being used by a number of Fortune 1000 companies including Costco Wholesale Corp., Toys"R"Us, Walgreens and other industry leaders in retail, transportation, medical, logistics, and manufacturing.
In the UK, where many SMEs continue to struggle to access finance in the wake of the credit crunch, the new platform has the power to be a 'game changer' for the industry. KPMG and C2FO have formed the alliance to respond to a number of challenges faced by many businesses in the UK today, says Simon Collins, KPMG Chairman in the UK.
"The traditional bank lending model has changed, perhaps forever, as a result of the 2008 crash," said Collins. "We know from some of our smaller and medium-sized clients that they continue to struggle to borrow from the banking high-street. C2FO will provide a much-needed non-bank source of working capital finance to suppliers and will help many small firms stabilize their supply chains."
The UK government, which is encouraging UK corporates to play their part in supporting economic growth, is backing the new partnership. According to Skills and Enterprise Minister Matthew Hancock, combining KPMG's experience with C2FO's market-leading technology will improve access to working capital for suppliers of all sizes and allow large companies to put their cash piles to work in the economy.
"I am very excited by this strategic partnership between KPMG and C2FO," said Hancock. "The collaborative approach at the heart of C2FO's market-based approach will improve the relationship between buyers and sellers, making the supply chain more efficient and both suppliers and buyers more internationally competitive. This is a clear demonstration of the power of digital technology to disrupt and improve the way UK companies operate and I look forward to following the success of this partnership in the coming months."
"C2FO is excited to partner with KPMG as we expand the presence of our dynamic early payment marketplace in the United Kingdom," said Dru Shiner, C2FO's Chief Sales Officer. "Companies of all sizes around the world have realized the unique advantages of receiving early payment through C2FO including low cost funding without credit underwriting or paperwork. We are looking forward to improving the working capital health of companies throughout the UK."
Both parties have signed a three year agreement to work together in the UK.
The C2FO Market is Collaborative Cash Flow Optimization. The C2FO Market helps companies across the globe collaborate with their supply chain in a live, web-based environment to achieve accelerated cash flow and increased efficiencies in working capital management and profit.
About C2FO:
C2FO is the world's market for working capital(TM) and risk-free profit. C2FO is the only working capital exchange that allows companies to optimize their working capital positions in a live, bid/ask environment. Companies across the globe use C2FO to increase their operating income while simultaneously producing vital working capital flows to their supply chain. C2FO is Collaborative Cash Flow Optimization. Learn more about C2FO at http://www.c2fo.com or contact Christine(at)c2fo.com or phone 816-268-2570.
About KPMG:
KPMG LLP, a UK limited liability partnership, is a subsidiary of KPMG Europe LLP and operates from 22 offices across the UK with approximately 11,500 partners and staff. The UK firm recorded a turnover of £1.8 billion in the year ended September 2013. KPMG is a global network of professional firms providing Audit, Tax, and Advisory services. It operates in 155 countries and has 155,000 professionals working in member firms around the world. The independent member firms of the KPMG network are affiliated with KPMG International Cooperative ("KPMG International"), a Swiss entity. Each KPMG firm is a legally distinct and separate entity and describes itself as such.