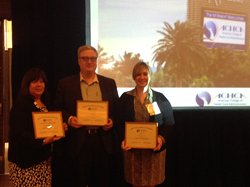 We stress the importance of providing the highest quality of care in a comfortable, family-like setting.
Las Vegas, NV (PRWEB) April 06, 2014
Administrators at three Windsor Healthcare Communities in New Jersey today received leadership awards at the American College of Health Care Administrators' 48th Annual ACHCA Convocation & Exposition. Buckingham at Norwood Care & Rehabilitation Center, Canterbury Care & Rehabilitation Center in Cedar Grove and Windsor Gardens in East Orange were among the top-performing skilled nursing providers across the country receiving the Eli Pick Facility Leadership Award.
"This is a tremendous honor for our administrators and for Windsor Healthcare Communities," said Batsheva Katz, Vice President of Quality Initiatives for the family-owned company with short- and long-term care homes located throughout New Jersey. "On behalf of Administrators Helaine Ledany of Buckingham, Yael Herman of Canterbury, and Joanne Escovar of Windsor Gardens, we are very pleased to be recognized for our efforts to provide the best quality of care with a progressive person-directed approach at our homes."
Every year, the ACHCA recognizes the leaders of top-performing skilled nursing providers across the country through the Eli Pick Facility Leadership Award, which was established in 2008 to recognize skilled nursing facilities for achieving excellence beyond the Center for Medicare and Medicaid's 5-star rating program. Each year the criteria is reviewed and updated to ensure top performing facilities are recognized and ensures the award continues to raise the bar for Minimum Data Set (MDS) quality measures and nursing home survey data.
"At Windsor Healthcare, our administrators and staff show leadership every day in the ways they provide care for their residents and guests," said Windsor's President and CEO Hyman Jacobs. "Our administrators stress the importance of providing the highest quality of care in a comfortable, family-like setting while at the same time upholding the high national standards for nursing home operations, and staff at all of our homes are equally committed to providing the best of care. We are delighted that three of our administrators are being recognized for their leadership today."
Founded in 1962, ACHCA is a non-profit professional membership association which provides superior educational programming, professional certification, and career development opportunities for its members. Guided by the vision that dynamic leadership forges long term health care services that are desired, meaningful, successful, and efficient, ACHCA identifies, recognizes, and supports long term care leaders, advocating for their mission and promoting excellence in their profession.
One of the Windsor Healthcare administrators being honored today, Ms. Ledany from Buckingham, is serving her second term as president of the NJ chapter of the ACHCA. The New Jersey chapter, the second largest in the nation, is guided by its mission to enhance the professional development of ACHCA in NJ through networking and education in order to improve the quality of care provided to those we serve.
Today's awards come on the heels last week's announcement by the international nonprofit organization, The Eden Alternative, that two Windsor Healthcare Communities, Windsor Gardens and Llanfair House Care & Rehabilitation Center in Wayne have been accepted into the Eden Registry. A progressive approach to aging, the Eden Alternative stresses choice and fosters a person-directed approach to care, tailoring daily life and activities to individual needs and preferences under the guidance of interdisciplinary teams.
Llanfair House and Windsor Gardens' acceptance into the prestigious registry are in addition to the acceptance of two other Windsor Healthcare Communities to the Eden Registry. Buckingham and Canterbury achieved that status a few years ago. With the acceptance of two more Windsor homes to the registry, the company further cemented its leadership role in person-directed care in New Jersey, with four of the five homes in the state that are on the Eden Registry.
About Windsor Healthcare:
A family-owned company, Windsor Healthcare provides clinically sophisticated sub-acute care, as well as comprehensive nursing care, in homes throughout New Jersey. Windsor Healthcare takes pride in its progressive thinking in healthcare models and partnering with the most well regarded medical providers in the state. With leadership experience in short and long term care for 35 years, Windsor Healthcare has the resources and capabilities to provide the highest quality person-directed care through a full range of services.
In addition to Buckingham, Canterbury, Llanfair House and Windsor Gardens, other Windsor Healthcare Communities include Abingdon Care & Rehabilitation Center in Green Brook, Ashbrook in Scotch Plains, Briarwood in South Amboy, Cornell Hall in Union and Merwick in Plainsboro.
Please visit http://www.windsorhealthcare.org for more information.