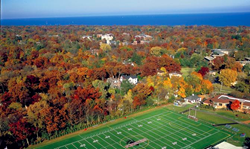 Lake Forest College is one of our favorite stops each summer - our coaches always look forward to it.
Newport News, VA (PRWEB) April 08, 2014
Eurotech Soccer Academies, the premier provider of youth soccer training systems in North America has announced its Illinois soccer camps schedule for 2014. 2014 will mark ESA's 24th year operating its elite soccer camps in Illinois and Chicago.
The Eurotech tradition started in Illinois around 1990, with many local communities and soccer organizations hosting the then popular day camp programs offered by Eurotech nationally. This progressed to its first overnight camp program at Eastern Illinois University in Charleston, moving to Illinois State University in the early 1990's followed by Lake Forest Academy, then finally finding a home at Lake Forest College which has played host to Eurotech Soccer camps since 2001.
Eurotech and Lake Forest College are both known for their great soccer programs. According to Jim Risher, National Director of Eurotech Soccer Academies, "Lake Forest College is one of our favorite stops each summer - our coaches always look forward to it". Risher added "The campus is beautiful, the location is convenient to commuters across Chicagoland, and the facilities are a absolutely top notch." Recent campus improvements include a new multi-million dollar athletic facility (which includes an indoor turf field) and a completely renovated dining center.
This year's soccer camp at Lake Forest College, IL proves to also be their most flexible camp in the Chicago area offering 4 day, 6 day, and 12 day sessions starting July 6th and running through July 25th. Full day, extended day, and overnight options are also available. Finally, each session will offer something for every position from striker to goalkeeper - including a goalkeeper academy, a striker school and focused training on individual techniques and tactics.
Soccer Campers who act quickly, can also take advantage of several discount opportunities including an Early Registration discount of $25, a Returning Camper discount of $25 and a Family Camper discount of $25. Please check the EurotechSoccer.com website for details.
About Eurotech Soccer Academies
Eurotech Soccer has built its 24 year-old training system around a European training philosophy starting with the finest International and National youth soccer coaches. Eurotech Soccer coaches include national, collegiate and international directors and include national team, Olympic, college, professional coaches and players from some of the finest International clubs and leagues in the world. Learn more at http://www.EurotechSoccer.com.