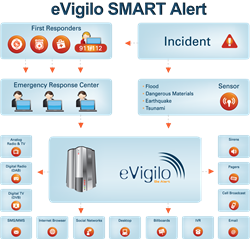 We feel immense satisfaction to have contributed saving the lives of millions of people.
Santiago, Chile (PRWEB) April 07, 2014
April 1st, 2014 a 8.2 magnitude earthquake hit Chile, causing rise in sea level and Tsunami waves threatening the coast. Lives of millions were in danger.
Thanks to eVigilo SMART Broadcast, Chile's emergency authority ONEMI has managed to send geo-targeted alerts and evacuation notices to millions of people within seconds.
eVigilo SMART solution sends the emergency broadcasts via a number of channels, including: Mobile phones (cell broadcast), Internet (push messages), emails, TV , radio, sirens, social networks and digital signs.
Chile's president Michelle Bachelet has said in official statement: "The messages were sent on time".
Following the 2010 earthquake that took the lives of more than 560 people, ONEMI has decided to deploy eVigilo SMART Broadcast, a fact that helped to reduce the death toll in the 2014 earthquake to 5.
eVigilo SMART Broadcast is core component of Chile's "Alerta Temprana" project.
The main objective of eVigilo SMART Broadcast is to deliver geo-targeted cell broadcast messages within seconds to millions of people.
Ricardo Toro, head of Chile's emergency authority has said: "This project allows the people to receive a message in a timely manner when they are in an affected area."
eVigilo SMART Broadcast is the only cell broadcast system worldwide that warns millions of people in less than 20 seconds, thus notifies the population in case of earthquakes, Tsunamis and other imminent threats in timely manner.
eVigilo CEO Guy Weiss concluded: " We feel immense satisfaction to have contributed saving the lives of millions of people".
About SMART
eVigilo SMART (Scalable Messaging Application in Real-Time) is a modularized multi-channel alert and notification platform for alerting the population and closed groups across fix & mobile networks, TV, radio, sirens and Internet. Given its modularized architecture, SMART can be tailored according to the requirements of the specific customer. Customers can select different setups and functionalities subject to communication channel availability and sizing. SMART is available on various levels such as SMART for Governments, SMART for Municipalities and SMART for Enterprises.
About eVigilo
eVigilo is a pioneer in the field of multi-channel alert and notification systems. eVigilo's population alert systems have been deployed worldwide delivering messages through a wide range of channels on national and regional scale. eVigilo is the only vendor worldwide whose national population alert solutions have been deployed by multiple countries around the globe. eVigilo is selected vendor of many governments, homeland security and rescue forces, municipalities, industry and public utilities.
For more information, please visit at: http://www.evigilo.net Telephone: +1 415 992 7068
email: info(at)evigilo(dot)net