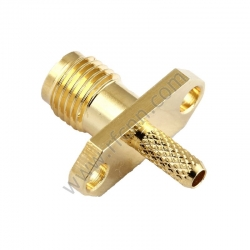 (PRWEB) April 06, 2014
LenoRF, a well-known electrical equipment wholesaler from China, has presented its new series of SMA Jack products. All these useful items are promised to be made of grade-A materials. Furthermore, the company has decided to launch a special offer on them; the current discount is up to 26% off.
Worldwide distributors can always find something affordable and practical at the company's website. This is because the company's experienced specialists keep working hard to improve product quality and make constant innovations. So, all LenoRF's products are of top quality. Also, the company pays close attention to the latest information about customer needs and satisfaction.
As a matter of fact, LenoRF is one of the leading SMA product suppliers in the market. It is established and run by top experts and aims to help all clients find the most appropriate solutions for their specific electrical equipment needs.
"We are excited to announce our new equipment. The entire new range of SMA Jack products comes with significant discounts now. They are excellent choices for those who are in need of high end items. I believe the current special offer is a great opportunity for worldwide distributors to get affordable electrical accessories," the sales representative of the company says.
About LenoRF
LenoRF is an online shop of high end devices. It is a China based company that aims to provide customers with high quality products at the lowest possible prices. Customers can try the company's products through sample orders with a long-term contract. Most customers come back soon after receiving their first deals.
More details about the company's useful products can be found at http://www.rfcnn.com/SMA-Female-Crimp-Rectangle-Flange-For-RG316-RF-Connector-135.html.