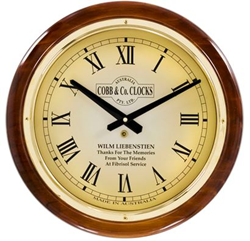 Personalised clocks are great as wedding presents, corporate gifts, birthday presents, anniversaries, and other gift occasions.
Melbourne, Australia (PRWEB) April 11, 2014
COBB & Co. Clocks are now offering customers a way to personalise their purchase. The in-house service by COBB & Co. Clocks allows customers to choose whichever design, image, photo or text to be customised on the timepiece. Whether it is a wedding, birthday or any other special occasion, a personalised timepiece not only adds that finishing touch to any gift but it also shows a thoughtful touch. It is by way of instilling some special sentimentality into a gift through the expressions of love, joy and gratitude.
Each timepiece can be personalised with add-ons such as a commemorative message, significant date, background image and company logo; thereby creating a tailor-made gift which is ideal as a wedding present, corporate gift, birthday present, anniversary and other gift occasions.
Ordering a personalised clock is simple. The online store via http://cobbco.co.uk/ offers an easy-to-use service where customers can add a personal message in the "Personalised Clock Face Instructions" field. Alternatively if customers prefer a non-text message, simply email the artwork, image or logo with specifications and instructions to info@cobbco.co.uk. Gifts are readily made to customer's specifications and will be shipped within 5-7 days.
Located in Melbourne, Australia, COBB & Co. Clocks is the number one brand for high quality, prestigious and reliable brass and polished solid plantation pine clocks and barometers. All COBB & Co. Clocks are handcrafted in Australia using the finest quality materials thereby adhering to their strict product specifications and quality control. All COBB & Co. products are warranted with a lifetime guarantee.
For more personalised ideas, please view COBB & Co. Clocks other listings by following this link at http://cobbco.co.uk/clocks/personalised-wall-clocks.html
About COBB & Co. Clocks
COBB & Co. Clocks is a manufacturer of prestigious, reliable and high quality clocks, with headquarters in Melbourne, Australia. Their range includes wall clocks, barometers, personalized clocks, pendulum clocks, mantle clocks and many other timepieces.
Combining the conventional traditions of watchmaking and modern technology, COBB & Co. timepieces have clean lines, an elegant style that is inspired by nineteenth century Australia and an emphasis upon functionality and high standards of excellence.
All COBB & Co. timepieces are handcrafted in Australia using high quality materials and come with an unrivalled COBB & Co. lifetime guarantee. Solid plantation pine is used to house the timepieces and finished pieces are encased in solid brass bezel. For superior accuracy, all clocks are engineered by quartz mechanism which ensures the clocks will be accurate to within 10 seconds per year.
COBB & Co. Clocks
Phone: +613 9532 2955
Fax: +613 9532 2056
Email: sales(at)cobbcoclocks(dot)com