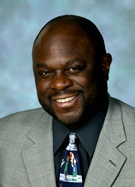 The College of Medicine has had a deep and indelible historical impact on health care throughout the region, throughout the country and, indeed, around the world. It will be a privilege to lead the Department of Pediatrics as chair. - Wright
Washington (PRWEB) April 07, 2014
Howard University today announced that one of the nation's leading pediatricians, Joseph L. Wright, M.D., M.P.H., will chair its Department of Pediatrics, effective June 2014.
"We are thrilled to welcome a leader with the experience, expertise and passion that Dr. Wright brings," said Mark S. Johnson, M.D., M.P.H., dean of the College of Medicine. "Dr. Wright is nationally renowned for his advocacy, public policy and research endeavors. His commitment to outstanding patient care and service to the community are consistent with our core values here at Howard."
As chair, Dr. Wright will advance pediatric research, further develop innovative educational opportunities for trainees, realign clinical services for children and expand advocacy initiatives. Dr. Wright joins Howard from George Washington University School of Medicine where he is professor and vice chairman in the Department of Pediatrics, as well as professor of emergency medicine and health policy. He is also senior vice president for community affairs and head of the Child Health Advocacy Institute within Children's National Health System.
"I am very excited to join the faculty at Howard University," Wright said. "The College of Medicine has had a deep and indelible historical impact on health care throughout the region, throughout the country and, indeed, around the world. It will be a privilege to lead the Department of Pediatrics as chair."
Board certified in pediatric emergency medicine, Dr. Wright's scholarly interests include pre-hospital pediatrics, youth violence prevention and the needs of underserved communities, areas in which he has contributed to over 80 research manuscripts, review articles and book chapters in the scientific literature.
Recognized as an effective advocate throughout his career, Dr. Wright has received the Shining Star award from the Los Angeles-based Starlight Foundation, the Fellow Achievement Award from the American Academy of Pediatrics (AAP) for exceptional contributions in injury prevention and the Distinguished Service Award from the AAP Section on Emergency Medicine. He has been inducted into Delta Omega, the nation's public health honor society. He also has been appointed to several Institute of Medicine study committees, including the Future of Emergency Care, Youth Sports Concussions and Pediatric End-of-Life Care.
Dr. Wright also serves on national advisory bodies, including the Department of Transportation's National EMS Advisory Council, the American Hospital Association's Maternal and Child Health Council, the March of Dimes' Public Policy Advisory Council, and recently as an Obama administration appointee to the Food and Drug Administration's Pediatric Advisory Committee.
A graduate of Wesleyan University with a Bachelor of Arts in Bio-psychology, he earned his medical degree from Rutgers University Biomedical and Health Sciences/New Jersey Medical School. Dr. Wright also earned a Masters in Public Health in Administrative Medicine and Management from George Washington University.
About Howard University Hospital
Over the course of its 150-year history of providing the finest primary, secondary and tertiary health care services, Howard University Hospital has become one of the most comprehensive health care facilities in the Washington, D.C. metropolitan area and designated a DC Level 1 Trauma Center. In April 2007, the Hospital ranked number one among selected area hospitals on 19 quality measures published by the U.S. Health and Human Services Department. A private, nonprofit institution, HUH is the nation's only teaching hospital located on the campus of a historically Black university. It offers medical students a superior learning environment and opportunities to observe or participate in ground-breaking clinical and research work with professionals who are changing the face of health care. Washingtonian and Black Enterprise magazines have identified physicians affiliated with the hospital as leaders in a vast range of specialties. For more information, visit here.
About Howard University
Founded in 1867, Howard University is a private, research university that is comprised of 13 schools and colleges. Students pursue studies in more than 120 areas leading to undergraduate, graduate and professional degrees. Since 1998, the University has produced two Rhodes Scholars, two Truman Scholars, a Marshall Scholar, 30 Fulbright Scholars and 11 Pickering Fellows. Howard also produces more on campus African-American Ph.D. recipients than any other university in the United States. For more information on Howard University, call 202-238-2330, or visit the University's website at http://www.howard.edu.