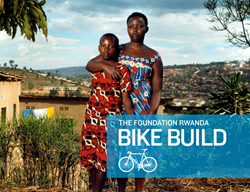 "I wish for my child to study and to find support which can allow him to enter university." - M.G.
New York, New York (PRWEB) April 07, 2014
Beginning twenty years ago on April 7th, 1994, an estimated 250,000 women were raped during the genocide in Rwanda and an estimated 20,000 children were born as the result of these rapes, many of them to mothers who contracted HIV from their rapists. Since 2007, Foundation Rwanda has worked to help educate these children and to provide holistic support for their mothers.
Today, in commemoration of the anniversary Foundation Rwanda has announced a target of $1.1 million to enable the organization to achieve its goal of continued educational and vocational support for its 735 students and the supplementary support needed by their mothers. This goal will cover all costs, fees and expenses as they relate to every aspect of Foundation Rwanda's work until every student has graduated from secondary school in 2019.
In order to achieve this goal Foundation Rwanda formally kicks off the annual "Foundation Rwanda: The Road to Sustainability Bike Build" campaign to raise funds for Rwandan students and mothers. Participants will actively seek donations through individual fundraising efforts guided by the crowdfunding campaign via social media and other creative initiatives to benefit the people of Rwanda. At the end of the thirty day campaign several participants will qualify to join a small group in Rwanda to build bikes with the Rwandan women and children in the Eastern Province of Rwamagana.
"We are very excited about this goal and we are confident with the launch of the bike build campaign and with the right partnerships – we can ensure each of the 735 students in our program can graduate secondary school and/or access vocational training with dignity," says Jules Shell Co-Founder and Executive Director of Foundation Rwanda. "Our goal is to help ensure every child in Rwanda has the right and the opportunity to access education and to contribute to a better Rwanda." Last year's successful bike build campaign provided 100 children with one year of schooling and a bicycle to get to and from school each day as well as HIV testing and counseling. Without these bikes some children walk three hours each way to get to school.
"I am grateful for the support from Foundation Rwanda, I wish for my child to study and to find support which can allow him to enter university. I wish to have a house. I wish to have an income-generating activity, selling crops so that I may earn a living for me and for my children" These are the words of M.G., a 57-year old ethnic Tutsi woman who was the victim of brutal rape during the genocide. M.G.'s son was born as a result of the sexual violence she endured. M.G.'s dream has become a possibility from the education program by Foundation Rwanda.
To find out how to participate in the 2014 "Foundation Rwanda: The Road to Sustainability Bike Build" and to learn more about Foundation Rwanda, visit http://www.foundationrwanda.org.
For high-resolution Foundation Rwanda photos (copyright Foundation Rwanda/Jonathan Torgovnik), visit http://www.foundationrwanda.org/photosmedia.aspx.
###
About Foundation Rwanda
Foundation Rwanda was founded by Jonathan Torgovnik and Jules Shell in 2007 to help fill the void and transform the lives of the Rwandan children and their mothers affected by the 1994 genocide. These children are excluded from Rwanda's Government Assistance Fund for Vulnerable Genocide Survivors (FARG), which restricts its support to survivors of violence committed between October 1, 1990, and December 31, 1994. Most of the children of rape victims were born in 1995, making them ineligible for assistance. The organization sponsors the school fees, uniforms, shoes, books and transportation needed to send these children to school. It also helps link their mothers to the help they desperately need in the form of counseling, job training and support. Foundation Rwanda is a U.S.-based nonprofit which has qualified as a charitable organization under IRC section 501(c)(3). Donations are deductible to the full extent provided by applicable law. Foundation Rwanda's program is implemented with local Rwandan partners including The Survivors Fund (SURF), Kanyarwanda, Avega and Solace Ministries. These organizations support children of women who were raped during the genocide and who have no other means of providing for their education.