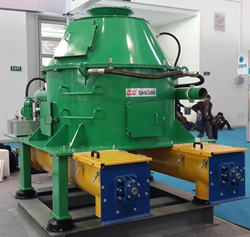 Drilling Cuttings Dryer
Houston,Texas (PRWEB) April 08, 2014
As a leading drilling waste management and solids control company, GN Solids America developed the first generation vertical cuttings dryer in 2011. After three years testing and research, GN Solids America announced that the latest designed second generation vertical cuttings dryer has been successfully developed and tested for drilling waste management.
Unlike the first Generation and traditional Vertical cuttings dryer, GN Solids Control has improved the Vertical cuttings dryer with a patented scraper system inside the basket screen, and a high pressure air knife system is fitted to assist in continues cleaning of the screen for the vertical cuttings dryer while working. This reduces the downtime for cleaning the vertical cuttings dryer screen. And this featured design cuttings dryer make it possible for water based drilling mud system cuttings drying which has significantly gives better drying performance than the linear motion shale shakers. The high torch completed Sun-Wheel Gear box unit ensures the second generation vertical cuttings dryer to run more reliably than the gear driving system. The VFD control system allows the vertical cuttings dryer to run at different G force and different differential speed to handle the drilling cuttings in proper conditions. The combined drilling cuttings picking up augers allow the drilling cuttings dryer to sit at a relatively lower profile and make it easier for the set up of the feeding screw conveyor.
The function of GN vertical cuttings dryer:
The drilling cuttings discharged from primary solids control equipment like shale shaker, mud cleaner, de-sander de-silter, will be picked up by a drilling cuttings auger conveyor fitted downside. A second screw conveyor will pick up the drilling cuttings from the first auger conveyor and feed to the vertical cuttings dryer.
GN Vertical cuttings dryer is used for drying oil based drilling waste cuttings, and SBM drilling cuttings. After the treatment by GN vertical cuttings dryer, the oil on the cuttings can get down to 3% to 5%. The GN Vertical Cutting Dryer uses centrifugal force to dry drilled solids in oil or synthetic base fluids. A stainless steel screen bowl traps "wet" drilling waste cuttings and accelerates them up 900RPM with G force up to 420. Liquid is forced through the screen bowl openings, while "dry" drilling cuttings are extracted by the angled flights attached to the cone, which rotate slightly slower than the bowl. Tungsten carbide protects the flights from abrasive solids and ensures long operational life. This aids in maintaining a constant gap between the scroll and screen bowl, which is crucial for proper operation. GN Vertical cutting dryer has been done strict balance testing for all major rotary components to minimize vibration & noisy.
The recovery oil or drilling fluids contains fine solids which need to use GN high speed decanter centrifuge to separate the solids and control the drilling mud balance to allow the drilling fluids to get back to the drilling solids control active mud tank.
GN Drilling Waste Management Main Products
1) GN Vertical Cuttings Dryer for drying drilling cuttings from OBM and SBM.
GN second generation cuttings dryer makes it possible to use even for water based drilling cuttings drying.
2) GN Decanting Centrifuge for cleaning high gravity drilling solids and the low gravity drilling solids which makes the drilling mud available for recycling and reuse and reduce the drilling waste management disposal cost and save money in making new drilling fluids.
3) GN high G drying shale shaker is able to use fine shaker screen to get oil from the drilling cuttings down to 10% and it is economic equipment with less maintenance cost in operation.
4) GN positive displacement screw pump is for transfer the heavy drilling fluids to feed to the decanter centrifuge and flushing the vertical cuttings dryer.
5) GN Drilling waste auger conveyor system is to transfer drilling cuttings with longer life operation design and standard interchangeable parts.
6) GN also design skid mounted or trailer mounted completed drilling waste management system for oilfield services companies. Besides GN Solids Control also have the hydraulic jackup drilling waste management system available.
More introductions for drilling waste management
No oil drilling well can be drilled without the generation of waste. It is possible though to reduce the drilling waste volumes through a number of means including better planning, a reduction in hole sizes, minimizing wash out through the selection of appropriate drilling fluids etc.
Reuse – solids control equipment is key to the reuse strategy. Solids control efficiencies will dictate how much drilling fluid is recovered in a suitable state for reuse in further drillings activities. Poor solids control efficiencies,and poor quality shale shaker screen will lead to more solids entering the active system, further reducing their particle size, and ultimately resulting in the requirement to dump fluids as waste, or to dilute, thereby increasing volumes and costs, all of which have a negative environmental impact. The Drilling Waste Management product line is designed to help maximize compliance with the drilling waste management hierarchy principles, as well as ensuring that local regulations and standards are complied with. Ultimately, disposal will be required in all cases, be it solids and / or liquids.
Learn more about GN Vertical Cuttings Dryer & Drilling Waste Management
Web:http://www.gnsolidsamerica.com
Phone:+1-713-8780880