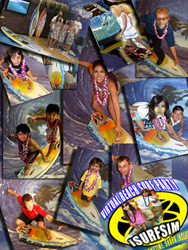 "One of the most exciting and interactive displays ever," says Paul Hart, who is the board of director - Tucker Seaport Museum.
Honolulu, HI (PRWEB) April 15, 2014
A new wave of technology is allowing customers to actively participate with your sales team while having fun and testing their skills - all while being exposed interactively with your brand or services. Trade show exhibits, corporate events and marketing companies are using new proprietary technology featuring quick, customizeable software and hardware offering the ability to featuring videos or product photos within minutes. And combining this with the new 3D hardware makes for an exhilarating, realistic experience.
Interactive Surf Simulator Events, with experience coming from ATARI, Nintendo and Nordic Track and have created more than 1000 events for clients like Sheraton Hotels as well as Sony Entertainment - is launching this "virtual reality" surfing simulation after a year of field trade show and corporate event testing with the likes of Pepsico, EMC Software, Dairy Queen and TOYOTA..
The old prize wheel and goldfish bowl have become dinosaurs. Ad companies and marketers are seeking creative, new forms of entertainment and ways to engage brand with client while having unique fun. Everyone is seeking relaxation and paradise – Fantasy Virtual Surfing Hawaiian style around the world, during any season seems to be the answer.
Prior to creating the "3D Virtual Interactive Surf Simulator Events" the company began staging exciting, interactive promotions for corporate events, trade shows - marketing brands and promoting new products for high profile clients like Microsoft, Motorola, Verizon, Sony Entertainment, CBS - Hawaii 5-0, Cadbury International, The Discovery Channel, Cisco Systems, Wells Fargo Bank to promote or launch their brand and new products . The electronic surf systems successfully engaged crowds and maximized their exposure at trade shows and gala events.
Museums have purchased or rented the surf simulators for their interactive displays. Recently, Tucker Museum on the east coast featured two surf simulators - one being an ECO green surf simulator. "One of the most exciting and interactive pieces of art ever!", expressed Paul Hart who is the chairman of the board of directors. The Bishop Museum of Hawaii has also used several interactive surf simulators to draw crowds to their exhibits. Fund raisers have also seen the potential of using the virtual surf system.
In the past, the interactive virtual simulator video company has spent years developing their own proprietary software that has focused on delivering customizing programming capabilities. All of their software can be customized within days of receiving logos, photos or any art from the client which was impossible in the past. The colorful, interactive software surf games can now include talking photos, pop up product videos and spinning dimensional logos that appear during the actual game play. The interactive video experience allows exposure of the brand and products to both the player and spectator.
The company is also adding a new fleet of ECO GREEN SURF SIMULATORS that are fabricated from reclaimed surfboards and resurfaced with fallen tree bark, charcoal and newspaper. Eco Green themed 3D software is also offered.
Interactive Trade Show | Corporate Events | Promotions
Contact:surfwave57(at)gmail(dot)com
http://www.surfsimulatorevents.com
808-256-8424