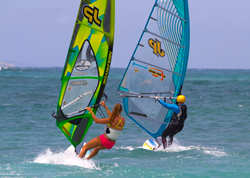 This clinic is aimed to be fun, a 'get in the ocean' tropical holiday as well as being extremely informative about safety, environment and sea conditions. - Cropas
Wailea, Maui, Hawaii (PRWEB) April 07, 2014
Four Seasons Resort Maui at Wailea, Maui's only Forbes Five-Star Resort, announces its fall 2014 lineup of Unforgettable Events, a series of one-of-a-kind experiences tailored to the resort's active lifestyle guests, featuring favorite tennis and cycling camps, and Aloha Windsurfing Clinic with World Champions Matt Pritchard and Shawna Cropas. Add to the schedule Vintage Wine Weekend and guest artist Elizabeth Pitcairn who performs on her legendary Red Violin.
Aloha Windsurfing Clinic – November 9 - 14: Taught by two top windsurfing champions—Matt Pritchard and Shawna Cropas. The water sports clinic will focus on both windsurfing and stand up paddling, an introductory way to learn to surf on flat water with small waves. The paddling boards can be turned into windsurfing boards by attaching sails. "This clinic is aimed to be fun, a 'get in the ocean' tropical holiday as well as being extremely informative about safety, environment and sea conditions," says Cropas, who stresses the clinic is ideal for those who have wanted to take part in water sports but have been intimidated by 'big wave' windsurfing. Aloha Windsurfing Clinic offers a wonderful way to share a new sport, receive excellent training from two world-class athletes and enjoy a luxurious vacation at the Four Seasons Resort Maui.
Wailea Tennis Fantasy Camp – November 19 - 23, 2014: Tennis anyone? Learn from some of the world's top legends. Past instructors have included Tracy Austin, Lindsay Davenport and Tom Gullikson. The pros will meet you at center court for four days of high-energy practice. This fantasy camp is at the award-winning Wailea Tennis Club and is hosted by Four Seasons Resort Maui. The camp is open to adult players ranging in skill from recreational to tournament level.
Cycling Camp Maui – New this year and by popular demand, there will be three camp date options. December 5 – 9, December 11 – 15, and for the fullest camp experience December 5 – 15. Tour de France veteran and Canadian Olympian Ryder Hesjedal and Go Cycling Maui lead and design this once-in-a-lifetime event which allows guests to experience cycling in much the same way as those on the ProTour. Open to riders with modest to advanced fitness and experience, the camps offer instruction and training by Hesjedal and several of the world's most competitive riders. Offering riders the opportunity to experience the beauty and changing terrain of Maui, guests end their camp days, each day, enjoying the luxurious amenities of Four Seasons Resort Maui at Wailea.
Vintage Wine Weekend and Red Violin – December dates to be announced. A weekend of events featuring wine experts and master sommeliers paired with an equally stellar culinary experience designed by Master Executive Chef Roger Stettler, plus a virtuoso performance of the fabled Stradivarius Red Violin by Elizabeth Pitcairn.
For details, prices, and how to book, visit: Four Season Resort Maui | Unforgettable Events.
About Four Seasons Resort Maui
Maui's first and only Forbes Five-Star resort is nestled on 15 acres of the breathtaking Wailea Coast. The 380-room oceanfront property is world-renowned for its comfortable opulence, impeccable service, luxurious amenities, and for living in harmony with its environment and community. The resort in Maui is also home to one of the nation's top-rated spas committed to wellness and three of Hawaii's most acclaimed restaurants - Ferraro's Bar e Ristorante, Spago Maui and DUO, a premium steak and seafood restaurant. This sophisticated home away from home caters to the needs and interests of all generations offering world-class activities and one-of-a-kind Unforgettable Events, a museum quality art collection, three pools overlooking the azure-blue Pacific Ocean including an adults-only Serenity Pool with exclusive Missoni-designed cabanas, and more. Four Seasons Resort Maui is a Hawaiian vacation destination geared to action adventurers, those guests wishing to practice the fine art of doing nothing at all, and everyone in between.
Media Contact: Charlotte Novom | Novom Marketing, Inc. | 714.941.9799