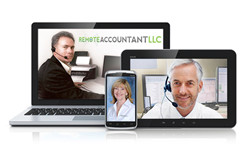 This year's tax deadline is less than ten days away- now more than ever, it's imperative to secure a reliable online financial adviser,
Sacramento, CA (PRWEB) April 08, 2014
The national Online Accounting, bookkeeping, and tax firm Remote Accountant LLC prides itself on protecting its client's money. Their mission is to provide superior accounting services to individual taxpayers, entrepreneurs, and small business clients. Their tax specialists adhere to the underlying principles of professionalism, responsiveness, and quality. This year's tax deadline is less than ten days away- now more than ever, it's imperative to secure a reliable online financial adviser, who monitors annual federal and local tax changes.
On April 6th 2014 The Sacramento Bee reported a decrease in the amount of tax changes for the 2013 tax season. The last tax-filing season was delayed by a "flurry" of sudden tax-law changes imposed by congress. The Sacramento Bee warns tax-filers to double check their math, and to follow up with an online tax professional. They report 80% of California residents file their taxes online. To read more visit here.
On April 2nd, 2014 CBC News released information pertaining to relevant tax changes for the 2013 tax-filing season. These new implements in programs and policies may impact tax-payers tax return amounts: Overseas employment tax credit, Federal Income Support for Parents of Murdered or Missing Children, Adoption expenses in 2013, and the end of Safety Deposit Box deductions. To read the entire list of changes visit cbc.ca/news/business/taxes/tax-changes-to-be-aware-of-before-filing-this-year-1.2499181
22 News announced on April 5th, 2014 that more than half of Americans have filed their taxes through an accountant or online accountant. "I think they do it online because especially if they get a refund. It's quicker. Otherwise, if they're gonna owe money, they wait until the last minute," said Paul Bisesti of Longmeadow. To read the full report visit wwlp.com/2014/04/05/tax-preparers-are-busy-as-filing-deadline-fast-approaches/.
Formulating the ideal strategy for garnering the maximum tax return for individual clients and small businesses is an intensive job within itself. Each year tax rates, incentives, breaks, penalties, and changes policies vary both federally and by state. The tax gurus at the Online Accounting firm, Remote Accountant LLC, understand that taxpayers work hard for their money, and ensure to keep abreast of changing taxation criteria. They help clients retain every eligible dollar during the tax season, and offer financial planning for future savings.
The experts at the Online Accountant firm, Remote Accountant LLC, utilize the newest cutting-edge technology, including live video chat, PC to PC login for automatic updating for accounting, bookkeeping, and tax filings- keeping everything simple and streamlined. Remote Accountant LLC, the Online Accounting Agency, provides a wide range of services which can be found on their website at http://www.remoteaccountantllc.com or on their firm introduction video.