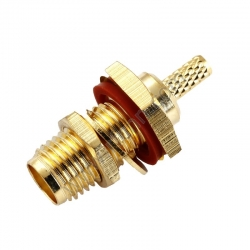 (PRWEB) April 07, 2014
Recently, LenoRF, a distinguished electrical equipment factory, has unveiled its new designs of discounted SMA Female connectors. The new connectors from the company are now available at low prices, up to 30% off. The promotion will end on April 18, 2014.
In fact, the company's online store is the go-to source for worldwide distributors to get cost-effective electrical accessories. It is established and run by top professionals who have been working in the electrical field for several years. And the company is always making full efforts to offer the best electrical equipment solutions for clients' unique specifications.
For people who are looking for high end SMA Female connectors at affordable prices, the perfect place for them to choose is LenoRF's online shop. The company is selling a wide variety of high end equipment and all its online workers are ready to help customers to make the smartest decision. In addition, LenoRF has updated its website with a boatload of related information that is worth reading.
Last but not least, the company is trying its best to manufacture more high end accessories for worldwide clients. All its experts are considerate.
About LenoRF
LenoRF is an online shop of high end devices. It is a China-based company that aims to provide customers with high quality products at the lowest possible prices. Customers can try the company's products through sample orders with a long-term contract. Most customers come back soon after receiving their first deals.
More details about the company's useful products can be found at http://www.rfcnn.com/SMA-Female-Crimp-bulkhead-for-RG316-RF-Connector-128.html.