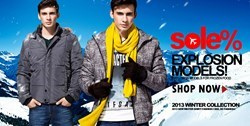 (PRWEB) April 08, 2014
Skmen.com, a popular online supplier of women's and men's comfortable clothes, has unveiled its long sleeve sweater dress collection. The newly revealed dresses are made according to the most fashionable styles in the current market. They are now offered at promotional prices, up to 30% off.
As there are manifold outfits provided on the internet, it can sometimes be challenging for ladies to decide on which items to buy. After all, it is important for stylish ladies to wear suitable clothes. A sweater outfit is something that should never be taken lightly.
Fortunately for the global clients, Skmen.com has been a one stop platform for them to get affordable, high quality attires. Offered at the company's website are the most fashionable items in the market.
Of course, there is not just a single option for worldwide clients. The company also offers many other trendy clothes like bohemian dresses, business casual dresses, chiffon long sleeve blouses and so on. All these items are carefully tailored to fit the specific needs of diverse individuals. Therefore, ladies from around the world can definitely make the most out of the money that they are spending for clothing when they are shopping at the company's online store.
About Skmen.com
Skmen.com, a reliable company founded in 2009, is one of the leading suppliers of men's and women's high quality clothes. It has more than 5000 customers from every part of the world; it hopes to help worldwide stylish ladies and gentlemen. For more detailed information about the company and its wonderful items, readers can visit http://www.skmen.com/product-sweater-dresses-003004008.aspx.