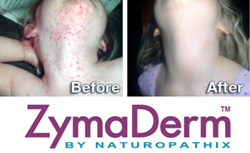 ZymaDerm™ is the most widely used treatment to make molluscum simply vanish, especially in children, because it is painless, inexpensive, and rapid acting.
Boise, ID (PRWEB) April 08, 2014
CVS, the largest pharmacy health care provider in the U.S., has selected ZymaDerm™, the most widely used painless treatment for molluscum contagiosum, for sale at its local stores.
"We are delighted that CVS now stocks ZymaDerm™", says Dr. Briant Burke, MD, its developer and medical director of Naturopathix, Inc. the company that markets ZymaDerm™. "If you don't see ZymaDerm™ on the shelf, just ask the pharmacist or manager for ZymaDerm™ stock number 927663. It is available without prescription."
"This makes it even easier for parents to obtain ZymaDerm™, the simple and effective all natural dab on preparation, and avoid expensive, painful, and most always ineffective treatments," continued Dr. Burke.
ZymaDerm™ is the most widely used treatment to make molluscum simply vanish, especially in children, because it is painless, inexpensive, and rapid acting. Healing begins in 24hrs and results are often seen in just days. Since its introduction in 2003, it has enabled over 500,000 people to quickly get rid of molluscum contagiosum.
While molluscum occurs primarily in young children, it is becoming epidemic amongst adults as well. ZymaDerm™ is as effective for adults as it is for children. It may be safely used on all body areas including the face and private areas.
Many leading dermatology clinics and pediatricians have replaced or are replacing invasive and often painful treatments with this gentle, effective, natural molluscum treatment for their patients with molluscum contagiosum.
In an independent study of 346 physicians that used samples of ZymaDerm™ for their patients with molluscum contagiosum, 92% of those responding rated it as effective, while 86% stated that they were either likely or extremely likely to use ZymaDerm as their preferred treatment method for molluscum contagiosum, compared to prescription drugs, over-the-counter treatment options, or physical destruction of lesions.
ZymaDerm™ is a patented blend of powerful all natural plant-based compounds; ZymaDerm™ transforms the treatment of molluscum contagiosum from expensive and often painful procedures such as freezing, burning, or surgical removal of the lesions to simply dabbing on a pleasant aromatic blend twice a day, usually for less than a month, until the lesions completely vanish.
Rather than have patients risk painful and expensive treatments, and to encourage the use of the safe and effective topical approach, ZymaDerm™ offers a no-risk six-month money back guarantee. Dr. Burke promises, "If ZymaDerm™ does not make your child's or your molluscum contagiosum painlessly vanish within 30 days, I'll refund your money."
ABOUT MOLLUSCUM CONTAGIOSUM
Molluscum contagiosum is a highly contagious skin infection caused by a virus that is a member of the poxvirus family. Molluscum symptoms include raised, unsightly, warty lesions on the skin. It is a common infection throughout the United States and occurs worldwide.
Children most frequently contract molluscum contagiosum. They catch it when they come into contact with the virus, usually on the skin of another infected child or on a wet surface infected with the virus. The lesions, which can rapidly spread, are usually seen on the face, neck, armpit, arms, and hands, but may occur anywhere on the body except the palms and soles.
ABOUT NATUROPATHIX AND ZYMADERM™
Naturopathix, Inc. develops safe, effective and inexpensive treatments for common health conditions. It utilizes state-of-the-art knowledge combined with a low technology approach to reduce the high costs of medical care for patients. It markets ZymaDerm™, the only full strength topical homeopathic for molluscum contagiosum.
The ingredients in ZymaDerm™ are based on a patented blend of powerful all natural plant-based compounds and officially included in the Homeopathic Pharmacopeia of the United States, which the FDA recognizes by law as authoritative. The potency and level of purity of the ingredients in ZymaDerm™ meet the most stringent standards of excellence. It is available in over 20,000 pharmacies including leading chain drugstores, such as CVS and Walgreens, and online merchants such as drugstore.com and amazon.com. It's website is http://www.Naturopathix.com