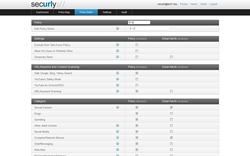 Securly allows IT admins to safely pilot and secure their 1:1 Chromebook programs, while reserving the ability to seamlessly expand the filtering to the rest of the district's devices.
Santa Clara, CA (PRWEB) April 07, 2014
Silicon Valley based Securly, Inc. - the world's leading cloud based provider of unified Internet Security for K-12 schools today announced their zero-touch filtering solution for 1:1 Chromebooks. The new offering gives schools a pain-free way to manage student screen-time on Chromebooks as they move between the school and home.
Given their low price-point, high usability and integration with Google's free Apps for Education suite of tools, Chromebooks have become a platform of choice for schools that are adopting 1:1 initiatives. As of October 2013, these devices were being used by 22% of all US K-12 school districts. While a primary driver of these district-level Chromebook purchases has been online student assessments, the adoption of newer pedagogical models like "Flipped Classroom" has had an impact as well. The latter makes it imperative for Chromebooks to go home with students in order for the district's 1:1 initiative to have any chance of success. A natural question that is raised by teachers, district leadership and parents alike as Chromebooks are sent home is - "How does one ensure online safety on these devices?" Says Tim White, Director of Technology for Webb City R-VII School District - "Sending a device home without monitoring and content protection would put our students at unnecessary risk and open our institution to significant legal action."
The status-quo is dominated by appliance-based proxy solutions. This involves the setup and maintenance of an on-premise hardware appliance. The existing approach has a number of disadvantages. First, since each appliance can support a finite number of concurrent connections, larger take-home programs would require districts to acquire and manage multiple appliances. Second, the fact that all of the students' home traffic is routed back through the school's network makes IT departments that are already stretched thin responsible for network uptime even during off-hours. This also limits students' browsing speeds to the school's uplink capacity which for the most part tends to be a lot lower. Finally, the status-quo's inability to play well with Google Apps makes for a sub-optimal User Experience.
Securly's Chrome plugin makes deploying a 1:1 take-home Chromebook filtering solution an easy 5-minute task. The plugin can be pushed out to Chromebooks via the Google Apps Admin Control panel. IT Admins can use the Securly dashboard to assign granular policies to their Google Apps Organizational Units. Securly reports student activity by their Google ID. IT Admins can also use the Securly dashboard to visualize student activity and the Audit Trail to drill deep into an individual student's screen-time in a matter of minutes.
Said Romeo Community Schools' Technology Director Mark Nelson of his districts experience working with Securly's take-home filtering solution - "As our district embarked on a program to send 3300 Chromebooks home with our middle and high school students, we turned to Securly. Their policy editor allows an easy way to set policies by school or grade level. Additionally, Securly's take-home policy allows sites and categories that might be distracting in the classroom to be accessed when the school day ends and students connect from home networks."
Securly was the first web-filter to integrate with Google Apps for single sign-on so schools with a heterogeneous mix of iPads, Windows, Macs, and Chromebooks could get granular policies per their organizational units. With today's offering, Securly allows IT admins to safely pilot and secure their 1:1 Chromebook programs, while reserving the ability to seamlessly expand the filtering to the rest of the district's devices.
About Securly:
Securly is the world's leading provider of unified cloud based security for K-12 schools. The founding team has a combined 20+ years of experience in the enterprise network security space. The company is a venture backed startup in Silicon Valley and serves hundreds of schools in North America, Europe and the Asia Pacific region. The Securly for Chromebooks plugin is available immediately by signing up for a free trial from http://www.securly.com and then visiting the Chrome Web Store or via the Google Apps Admin Console.