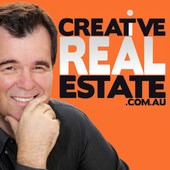 I educate people on how to build property portfolios without using up a whole lot of their cash, and creating cash flow and growth!
(PRWEB) April 08, 2014
Real estate investing educator, Rick Otton, has revealed in his most recent Creative Real Estate podcast 'Street Smart Secrets to Real Estate Wealth', that one of the biggest hurdles faced by aspiring property investors is in the way they market themselves and their business. Mr Otton said without a defined target market message, investors' clients were at risk of being bamboozled.
"You've got to have a message and it can't be a mixed message - otherwise people won't know what you stand for," Mr Otton warned.
"The other thing is that you need to know who your market is, and go for that. In my case, I educate people on how to build property portfolios without using up a whole lot of their cash, and creating cash flow and growth!
"But when people ask me 'what do you do?', I just say, 'I move people out of houses who no longer want to be in them, and give them to people who do'. That's my elevator speech."
Creative Solutions for Property Investing
In the podcast, Rick also responded to a number of podcast listeners who had sent in questions. One person said they had a $350,000 house debt on a property worth only $250,000. They were making repayments of about $1,700 a month and were wanting to get out of the situation.
"This is a pretty common problem," Mr Otton said.
"One of the things you can do is arrange to have a buyer coming in making payments over a shorter-term time frame.
"Also when you get these kinds of loans that are this far upside down, one of the things I've found you can do is approach the financial institution connected to the property and arrange an alternative solution - because they don't want to have the property back and lose money."
Mr Otton also suggested learning 'the lingo' of real estate agents to achieve a stronger strike rate with transactions.
Australian seasoned and novice property investors can tune into Mr Otton, and pick up his strategies for modern property investing, via his regular podcast program "Creative Real Estate" Show.
These podcasts contain low-risk, high-reward techniques on renovation secrets, positive cash flow, capital growth, and how to find bargain properties in any location.
Mr Otton's podcasts can be accessed in iTunes.
About Rick Otton
Australian property investment specialist, Rick Otton, has been developing, sharing and teaching his innovative real estate strategies for over 20 years. As the founder and CEO of We Buy Houses, which operates in the US, UK, Australia and New Zealand he is known for introducing cutting-edge techniques that have enabled previously disenfranchised people to get out of the rental cycle and into their own homes.
His innovative low-risk, high-reward approach to Australian real estate investing has been featured in a variety of television programs and magazines, including Today Tonight, A Current Affair and Australian Property Investor. His real estate book, published in 2012, ''How To Buy A House For A Dollar', voted by Money Magazine and Dymocks Book stores as one of the Top 10 Most Popular Finance Titles for 2013.
As well as conducting free seminars, workshops and conferences in the UK and Australia, Mr Otton regularly loads free podcasts to his iTunes channel, Creative Real Estate. In these he shares examples of real transactions, and often has his students as 'guests' who discuss the different ways they apply his teachings to their own clients.
These podcasts can be accessed, at no charge, in iTunes.