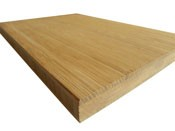 (PRWEB) April 07, 2014
Every few years, the flooring trends change and the market changes. According to a marketing director of BothBest, a China-based bamboo flooring company, bamboo flooring will be one of the hottest styles in the coming years. Today, BothBest released its strand woven bamboo flooring collection and announced the availability of big discounts.
BothBest's bamboo flooring is a high quality hardwood flooring alternative, and it is popular for its trendy designs and delicate craftsmanship. The new strand woven bamboo flooring is specially designed for modern life, and it is ideal for any interior from the ultra-modern contemporary to the traditional classic look. The company takes pride in providing expert bamboo flooring products and services in the world.
"We are excited to provide high quality strand woven bamboo flooring, as well as discounted shipping costs, to our clients worldwide. Bamboo flooring will take over more market share in these few years. BothBest always tries its best to help people enjoy the modern life with premium quality bamboo flooring products," says, the CEO of the company. "Customers can contact us if they have no idea about bamboo flooring, or if they want a completely customized design."
Besides strand woven bamboo flooring, BothBest is offering a wide range of hand scraped bamboo flooring, engineered bamboo flooring and more. The current promotion would benefit these buyers, allowing them to save $500 to $2,000 for their decoration
About BothBest
Certified by both ISO9001:2008 and ISO14001:2004, BothBest has 8 years of experience in the manufacturing and wholesale of bamboo flooring products. The company strives to bring its customers the latest styles and innovations of bamboo flooring, bamboo paneling, bamboo plywoods, bamboo furniture, and other bamboo products.
More information about BothBest and its bamboo flooring products can be found at http://www.bambooindustry.com/bamboo-flooring.