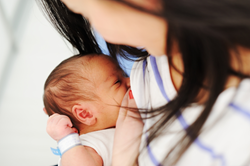 As well as many other benefits of breastfeeding, such as the natural antibodies which ward off infections and diseases, it has also been proven to drastically help with the symptoms of arthritis
London (PRWEB UK) 7 April 2014
A new study has revealed that women who choose to breastfeed their children are half as likely to develop rheumatoid arthritis than those who don't. Arthritis, which causes pain and swelling in the joints, is twice as common in women than men, and its occurrence in women increases steadily up to their mid forties.
The research, published in the journal of Rheumatology, studied more than 7,000 women, and found that the women who chose to breastfeed, especially for lengthy periods of time, were around half as likely to develop rheumatoid arthritis. http://bit.ly/1srCbiJ
Superintendent Pharmacist at ChemistDirect, Omar El-Gohary, said "Arthritis is a very painful disease which is much more common in women. As well as many other benefits of breastfeeding, such as the natural antibodies which ward off infections and diseases, it has also been proven to drastically help with the symptoms of arthritis."
Rheumatoid arthritis is a chronic, progressive disease, resulting in painful immobility and sometimes deformity, and is most common in the fingers, wrists, feet and ankles.
The condition is estimated to affect over 580,000 people in England and Wales and according to the Daily Mail; about three quarters of women find that their arthritis becomes less active or even goes into remission during pregnancy. http://dailym.ai/1fatLbJ
El-Gohary added: "The symptoms of arthritis are proven to subside in pregnant women, but getting enough rest, learning the right way to use and protect your joints and a warm bath can also help to ease the pain."
Researchers asked women, all aged 50 and from South China, about their history of breastfeeding and examined them for any signs of the condition. Around one in 10 were deemed to have rheumatoid arthritis.
Women with the condition were significantly more likely to be overweight and those who had at least one baby and had breastfed were around half as likely to have rheumatoid arthritis.
Arthritis can be caused by over wearing of the joints and cartilage, lack of fluid within the joints or a combination of factors. Arthritis can also be carried in the genes and is especially exacerbated by being overweight due to the extra strain on joints.