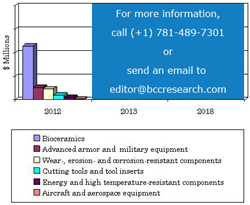 Wellesley, MA (PRWEB) April 08, 2014
BCC Research (http://www.bccresearch.com) reveals in its new report, TECHNICAL AND ADVANCED STRUCTURAL CERAMICS: NORTH AMERICAN MARKETS the North American market for advanced structural ceramics is expected to grow to nearly $4.8 billion by 2018, with a five-year compound annual growth rate (CAGR) of 5.4%. Energy and high- temperature resistant components is the fastest moving segment in this market with a CAGR of 12.5%.
Continued improvements in the fabrication and synthesis of advanced technical and structural ceramic materials and the use of more complex mixes to produce desired properties are projected to drive industry growth. The lion's share of that market is claimed by the bioceramics sector, which is expected to reach $3.2 billion in 2018.
Energy and high temperature resistant components is by far the fastest growing segment of this market with a projected value of $189 million in 2018, up from an estimated $105 million for 2013.
"The advanced armor and military market is expected to show much lower growth than in the recent past due, to the U.S. disengagement from Iraq and Afghanistan and lower overall defense expenditures," said BCC Research advanced materials analyst Andrew McWilliams. "The market for wear-resistant applications, particularly ceramic bearings, will increase, largely as a result of growth in the wind energy sector."
TECHNICAL AND ADVANCED STRUCTURAL CERAMICS: NORTH AMERICAN MARKETS provides an overview of advanced ceramic materials and discusses production technologies, new applications, and competitive issues. The various businesses entering the field of advanced structural ceramics are presented, and the barriers to entry are discussed. Market projections are given for the next 5 years. In addition, this study analyzes materials used in each structural ceramic application category and their respective properties, processing technologies, properties, prices, and U.S. markets.
The report is intended for developers, manufacturers, and suppliers of advanced structural ceramics, as well as anyone else interested in where this market is heading over the near term.
Editors and reporters, who wish to speak with the analyst, should contact Steven Cumming at steven.cumming(at)bccresearch(dot)com.