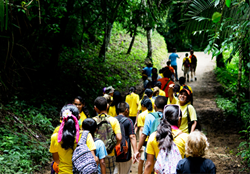 "From the moment we collect our guests at Belize's international airport until we drop them back off everything is taken care of. All luxury accommodation, meals, transfers, even staff gratuities and government taxes."
San Ignacio, Belize (PRWEB) April 09, 2014
The Lodge at Chaa Creek has just announced two new all-inclusive packages that cater to two distinct yet often related groups – grandparents and young people.
Marketing administrator Roberto Harrison said that the "Eco Kids Rainforest Adventure" package, described as a four night all-inclusive family vacation package is aimed at introducing young people to the natural world while teaching respect and responsibility for nature in a fun and exciting way while their parents relax and enjoy as many activities as they wish within Chaa Creek's 365 acre private, secure rainforest nature reserve.
The second package, the "Belize Swim Suits & Hiking Boots" is styled as "The Ultimate Baby Boomers' Reward".
"Grandparents do so much for the family that they deserve to take some time out for themselves, or have someone take it out for them. We styled this seven day package to achieve the perfect balance between taking it easy and enjoying some adventure, all in an atmosphere of casual luxury," Mr Harrison said.
He added that both packages are all-inclusive and were developed to make it easy for entire families to have holiday adventures that are affordable, educational, and offer hassle-free fun.
"The Eco Kids all-inclusive Belize vacation package gets its inspiration from our successful annual Eco Kids educational summer camp that Chaa Creek's owners have been sponsoring for Belizean schoolchildren over the years. It's proven to be so much fun, and so inspirational to young people that we thought, 'why not tweak it a bit and offer it to the general public'? We know it's a hit."
Mr Harrison said that during the vacation, young people are immersed in Belize's spectacularly beautiful natural world, ancient Maya culture and many other areas of interest. Supervised by licensed, professional guides, the young people learn about nature, teamwork, and themselves.
"It's so much fun the kids don't see it as educational," Mr Harrison said, "It's more like a journey of discovery that they embark upon with their peers in a secure and well-structured environment."
The other new package takes previous all-inclusive "Rainforest-to-Reef" or surf and turf packages and expands upon them to give more mature adventurers a luxurious mixture of rainforest and Maya exploration with an additional Caribbean holiday added on.
Mr Harrison said that Chaa Creek once again teamed up with Chabil Mar Villas on the long sandy Placencia peninsula running along Belize's Caribbean coast to offer a carefree vacation that gives a complete Belizean experience for one set affordable price.
"From the moment we collect our guests at Belize's international airport until we drop them back off everything is taken care of. All luxury accommodation at both resorts, meals, transfers, even staff gratuities and government taxes. There is absolutely nothing else to pay, unless guests wish alcoholic beverages, and no hidden surprises.
"Guests can choose a three and/or four nights stay at either Belize eco-resort, depending on their preferences, with Chaa Creek offering excursions to the ancient Maya cities of Tikal and Xunantunich, the Maya ceremonial caves at Barton Creek, guided tours of the Natural History Centre and Butterfly Farm, canoeing, nature-walks, a stop at the Belize Zoo and the opportunity to do as much or as little as you choose in a stunning jungle setting filled with adventure opportunities and amenities such as the professional Hilltop Spa, tranquil infinity pool and our friendly Jungle Lounge.
"We partnered with Chabil Mar because they share not only our green philosophy, but our approach to casual luxury as well. Along with the same all-inclusive luxury accommodations, meals and transfers, guests can look forward to a true Caribbean holiday, with use of bicycles and kayaks, all sea sport equipment, two fresh water infinity pools, a full day of some amazing snorkelling, tours of the Cockscomb Jaguar Preserve or Monkey River, and a local flight to Belize International Airport," Mr Harrison said.
"We've been doing this for over 30 years now and have such an infrastructure in place, along with a network of trusted colleagues, that we can offer these all-inclusive packages that no one else can, and at a price that no one can come close to," Mr Harrison said. "We take pride in what we do, and we're thrilled about these new packages," he added, and suggested people visit Chaa Creek's website, or the Belize Travel Blog or reservations(at)chaacreek(dot)com for more information.
The Lodge at Chaa Creek is an award winning eco resort set within a 365 acre private nature reserve in Belize.
ENDS