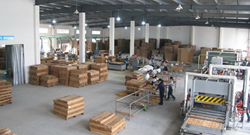 (PRWEB) April 09, 2014
The needs for bamboo floors to shatter the stereotypes have arrived; bamboo floor is both strong and striking. Recently, BothBest, a well-known bamboo flooring manufacturer, has announced its bamboo flooring promotion for the flooring distributors worldwide. All the old and new clients can get a discount now, up to 31% off. Custom service is available for quantity orders.
As a leader in the industry, BothBest has taken bamboo flooring to the next level in terms of color, texture and style. The company can have you covered inside and outside with its bamboo flooring products, including strand woven bamboo flooring, engineered bamboo flooring, hand scraped bamboo flooring and more.
"We are happy to launch the promotion to show our appreciation to our global distributors. Our bamboo floors are architectural grade products, and they can create an elegant look when paired with other furniture. We are proud to offer the most economical and functional selection of bamboo floors on the market. Visit our website now and you can find your dream bamboo flooring here," says, the CEO of BothBest.
He adds, "Bamboo flooring is stronger than many hardwood floors, and it is highly moisture-resistant as well. It is considered by many people that environment-friendly bamboo flooring is an ideal choice for allergy sufferers."
About BothBest
Certified by both ISO9001:2008 and ISO14001:2004, BothBest has 8 years of experience in the manufacturing and wholesale of bamboo flooring products. The company strives to bring its customers the latest styles and innovations of bamboo flooring, bamboo paneling, bamboo plywoods, bamboo furniture, and other bamboo products.
More information about BothBest and its bamboo flooring products can be found at http://www.bambooindustry.com/bamboo-flooring.