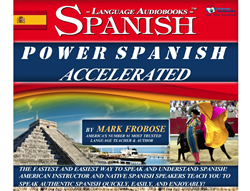 Champaign, IL (PRWEB) April 08, 2014
There has been a lot of talk lately about how best to learn a language.
Enroll in a class? Learn on a computer? Hire a private tutor?
"Audiobooks are the perfect way to learn any language from any location," says Mark Frobose, founder and President of LanguageAudiobooks.com, and bestselling author of Power Spanish, Power French, Power Italian, and Power Portuguese.
Mark should know. He has created more bestselling language programs than any single person on the planet, including Macmillan Audio's bestselling "Behind the Wheel" language programs in 12 different languages!
Mark states 7 reasons why language audiobooks are king when it comes to learning to speak a new language:
1. Inexpensive - The average price of a typical Language Audiobooks program is around $18.00 US for an 8 hour program. "Compare this to hundreds of dollars for very basic computer program and potentially thousands for live language instruction," says Mark, who also created BiteSized Mandarin Chinese, BiteSized German, and BiteSized Russian.
2. Portable - Take them everywhere and play them on any appropriate device.
3. Instantly Accessible - No tuition to pay, no computer to start up. "It's there when people need it during life's many waiting periods," affirms Mark.
4. Perfect for Automatic Language Accumulation - Anyone can automate their language learning by setting up an audio-based automatic language accumulation net to fit any daily lifestyle or routine, says Mark, who also authored "Automatic Fluency".
5. Extremely Compact - Digital MP3s don't have any size or weight at all.
6. Versatile & Convenient - This means a person learn a language while jogging, shopping, or even while doing Tai Chi since there is no computer screen to look at.
7. Waiting Period Friendly - Language Audiobooks conveniently go everywhere so everyone can take advantage of life's many waiting periods to learn languages. Red lights, traffic jams, dentist's appointments are instantly converted into marvelous language learning opportunities.
Language Audiobooks Inc. specializes in downloadable digital language programs like the bestselling Power French Accelerated which are extremely fast and easy to learn and that are immediately accessible to any smart phone or computer. The Language Audiobooks' motto is "Learn Languages Everywhere™".
The company's founder and CEO Mark Frobose is an expert language teacher who created the entire language audio line for Macmillan Audio of New York including the bestselling "Behind the Wheel" language programs. For over a quarter of a century, Mark has created and produced more successful audio language programs than any other living individual in the world today. His bestselling Power Spanish Accelerated is rapidly becoming the nation's favorite all-time Spanish program.
Language Audiobooks' popular Power Spanish, Power French, and Power Italian, Power Portuguese, Bite-Sized Mandarin, Conversational Latin-American Spanish, Clean French Slang and other innovative language programs are available for download now at Audible.com or in CD format at Amazon.com.