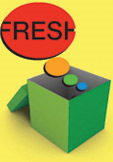 If you want to own shoppers' wallets, you must first own their hearts and their minds.
Scottsdale, AZ (PRWEB) April 09, 2014
Shopper marketing expert Christopher Brace, in an interview with Jyoti Pahadsingh, Editor and Head of Community Relations, Fresh, highlighted some key strategies that retailers must adopt to stay relevant in an increasingly competitive scenario. The interview was published on the Fresh website on 08 April 2014. The interview focused on the understanding that shoppers' purchase decisions are as much based on their emotions as they are on quantitative facts.
Founder of consulting firm Shopper Intelligence, Christopher Brace stressed that it is essential for retailers to move away from product-centricity based on quantitative analysis and focus on understanding their shoppers holistically-emotionally and behaviorally-in order to attract and retain customers. Understanding and addressing consumer insights as well as shopper insights will be the key differentiator for retailers in the coming years. Retailers currently only look at shopper insights that answer questions such as "what are they doing", and "what do they need". Brace emphasizes that it is equally important to factor in consumer insights or the "why" of a purchase decision for developing a sustainable long term and effective retail strategy.
"If we're going to address shoppers' subconscious minds – the real driver of behavior – then we need to become much more adept at using emotion-based information, (specifically insights) as the basis for our strategies," said Chris.
Read the full interview at http://thoughts.manthansystems.com/2014/04/08/what-role-do-shopper-emotions-play-in-driving-purchasing-decisions/.
About Fresh
The discussion with Christopher Brace on shopper and consumer insights is part of Fresh, an initiative to consistently present innovative ideas and trends in the retail space, making it a single source for retail-related critical points of view, information on best practices and expert views. Fresh, developed by Manthan focuses on the art and science of decision making – among the largest knowledge communities exclusively focused on the retail and consumer industry. The forum provides decision makers with knowledge and insights to be competitive, and help them stay up-to-speed with big ideas and trends that are changing and shaping their world today. Fresh differentiates in its ability to explore issues, ideas, insights, trends, expert views, and knowledge, much deeper than any other forum today. Join the FRESH community at http://thoughts.manthansystems.com/.
About Christopher Brace
Christopher Brace is a classically trained strategic consultant with shopper planning, brand management, traditional advertising, and promotions experience. As the CEO of Shopper Intelligence, he draws from this diverse background to help companies discover better insights, strengthen their shopper planning capabilities, and integrate consumer, shopper, and trade planning through insight and strategy. He is on the forefront of reshaping how brands build their go-to-market strategies so they deliver sustainable organic growth.