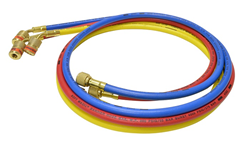 Quality Tools That Go To Work With You
Ft. Lauderdale, FL (PRWEB) April 07, 2014
Uniweld Products, Inc. is pleased to offer HVAC technicians EZ Turn™ Anti-Blowback Hoses to Uniweld's popular manifold series: QAL, QS4, QS8 & Q4N. On these manifold series, EZ Turn™ Anti-Blowback Hoses are available in the following lengths:
•QS4 2 Valve Brass Manifold with 3Ft, 5Ft or 6Ft Hoses
•QAL 2 Valve Brass Manifold with 3Ft, 5Ft or 6Ft Hoses
•QS8 2 Valve Brass Manifold with 3Ft, 5Ft or 6Ft Hoses
•Q4N 4 Valve Aluminum Manifold with 5Ft Hoses
HVAC technicians can now have the best of both worlds in this exciting new bundle. Uniweld's popular series of manifolds combined with the EZ Turn™ Anti-Blowback Hoses prevent refrigerant burns and make it easy to connect to the AC system while under pressure.
When connecting a standard hose nut to an access fitting, the valve core is depressed and the pressure from the system is released, spraying harmful refrigerant directly onto the technician's hand and many times causing finger burns. This extreme pressure pushes back on the nut and causes a large amount of friction between the threads, making the nut very difficult to fully seat against the access fitting and provide unrestricted flow. Many times pliers are required to turn the nut and complete the seal. The EZ Turn™ Anti-Blowback fitting has a thrust bearing that reduces friction so the service hose can be easily connected to the access fitting while under pressure. This becomes extremely useful when working with a high pressure 410A system.
For the QS4, QAL & QS8 manifold series, Uniweld uses a patented forged brass body which is manufactured with reseatable Teflon® valve stem packing for durability and leak-proof reliability. This series uses durable metal hand wheels and a quick action valve assembly for ½ turn fully opened or closed.
The Q4N series is manufactured with an anodized aircraft aluminum block body with 4 ports for charging, evacuating and testing a system without changing or removing hoses. The 3/8" SAE port increases vacuum capacity and saves time. This series offers Uniweld's NPF® No Pointer Flutter® gauges with 3-1/8" diameter and 4 refrigerants on the gauge scale.
The value of these bundles will make them an industry favorite and will surely be the go-to tools on the job site. Long service life and superior manufacturing are staples of all of Uniweld's "Quality Tools That Go To Work With You®."