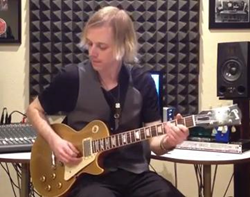 (PRWEB) April 07, 2014
Jon demonstrates this blues in the key of E as follows; a standard blues shuffle played with the open 6th string and the 2nd fret of the 5th string with his first finger, played twice (1 &) and then he moves to the 4th fret of the 5th string with his 3rd finger, also played twice (2 &) and then he repeats the first sequence (3 &) and then for beat four he adds another lick; 3rd fret of the 6th string with 2nd finger and then the 4th fret of the 6th string with 3rd finger and then to the 2nd fret of the 5th string with his first finger, played as a triplet (4 E &). "This tune is a great example of how the blues and rock and roll are just mixing together," says MacLennan. Jon continues this lesson by talking about the rest of the riffs that are used in the song. Guitar TAB's are available for this blues guitar lesson at BluesGuitar.com.
Led Zeppelin were an English rock band formed in 1968 in London England. Their music was rooted in the blues, but is considered to pioneers of Heavy Metal. The peak of their commercial success came with their fourth album Led Zeppelin 4 that contained the track Stairway to Heaven, which is one of the most influential songs in Rock history. Guitarist Jimmy Paige credited with writing most their early music, but later on their music became keyboard centered. Over the course of their career they released 9 albums and received many awards including a Grammy Lifetime Achievement award as well as being inducted into the Rock and Roll Hall of Fame. Led Zeppelin disbanded in 1980 following the death of drummer John Bonham.
Jon MacLennan
Los Angeles based guitarist Jon MacLennan began his career at the age of 16 and is one of the busiest upcoming session guitarist, artist, composer, producer, and professional educator in LA. Jon has done session work for Julian Lennon, Steven Tyler, and British pop star Jamie Cullum. He has appeared on Disney channels "The Suite Life of Zack and Cody" and on the sound track to the movie "Marley and Me 2 – The Puppy Years". MacLennan earned a bachelor's in ethnomusicology and jazz guitar studies from University of California, Los Angeles, and has been mentored by Carl Verheyen, Wolf Marshall, Kenny Burrell, Anthony Wilson, Tamir Hendelmen, Jimmy Wyble and Ron Anthony which has made him a highly sought after guitar instructor today.
About BluesGuitar.com
BluesGuitar.com is the leader in modern blues guitar instruction. It's packed with recourses including articles, video lessons, and the best videos in the business for the beginner to the advanced guitar student taught by the best instructors out there.